This Sunday is the Art & Design Open Market at One Colorado.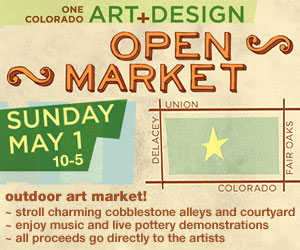 Open Market is free and open to the public. It allows a rare opportunity to purchase prints, photography, sculpture and fine art created by students, faculty and alumni form Art Center and PCC. All of the proceeds from sales will go to the artists.
Since its launch in 2003, the Open Market has provided visibility for more than 700 artists and has served as a destination for thousands of art collectors and enthusiasts. Art for sale includes photography, fine art, paintings, illustrations, graphic design, ceramics, sculptures and more. For photos of the Fall 2010 Open Market, click here.
For more information, visit onecolorado.com or call 626.564.1066.
Art + Design Open Market
Sunday, May 1, 10 a.m.-5 p.m.
One Colorado
24 East Union Street, Pasadena, CA 91103