Art Center's Graduate Media Design (MDP) program will be among the international designers, architects, filmmakers, corporations and other educational institutions exploring the "New Urban Lifestyle" as part of Little Tokyo Design Week: Future City (LTDW) this week. LTDW celebrates the power and energy of cutting-edge design and technology emerging from Japan and its relation to current trends materializing in Los Angeles.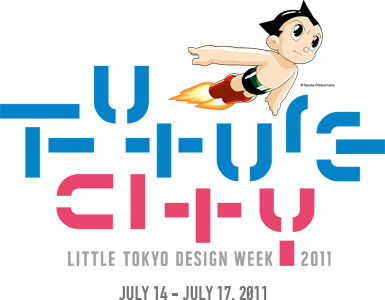 "We look forward to participating alongside world class designers, artists and creative thinkers and engaging the public in an exciting dialogue about the future of our cities and the future of design," says MDP Chair Ann Burdick.
Taking place July 14 through 17, the free, four-day public festival will span the geographic breadth of downtown Los Angeles' Little Tokyo district with a series of museum exhibitions, student installations, public happenings and temporary galleries in the form of shipping containers placed throughout the public plazas of Little Tokyo. Under the auspices of the MDP program, the College will produce three separate projects for LTDW exploring how design and technology will shape lives in the cities of the future.
"Grad Media Design emphasizes an approach that responds to issues without the assumption of a particular type or mode of outcome and, similarly, to resist the adaptation of common assumptions for topics of technological or social concern," says Tim Durfee, core faculty and director of amp: Projects in Media and Architecture within the MDP program. "This ethic is in evidence for both our PLAN C installation and Metropolis of Me symposium, in which we approach familiar topics from somewhat novel directions in order to reveal overlooked opportunities or implications."
There are three projects being produced by Grad Media Design for LTDW.