Layar is sponsoring a project at Art Center this upcoming Summer Term, which kicks off with a symposium open to all.
LAYAR DAY L.A. will be Friday, May 20, and will include a workshop and symposium at Hillside Campus. LAYAR DAY L.A. will be a full day of hacking space and time with augmented reality.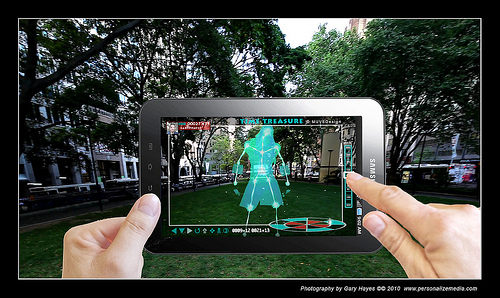 Join us as we seek inspiration from visionary thinkers and street-level artists—and help Layar make some cool AR in the process.
Meet the Layar team at 10:45 am at the Geffen Contemporary for an informal visit to the Art in the Streets exhibition of street art. MOCA opens at 11 a.m., and admission is $10 at the door.
At 1:30 p.m., the program moves to Art Center, where artist Sander Veenhof and Layar's Gene Becker will lead a hands-on workshop teaching how to make augmented reality experiences on the Layar platform. Street art, public AR art exhibitions and historical layers will be used as examples of hacking space and time.
Following the workshop at 3 p.m., there will be a symposium featuring some of the world's most visionary and creative minds in augmented reality. The incredible lineup of speakers includes noted author and former Art Center visionary-in-residence Bruce Sterling, Layar co-founder Maarten Lens-FitzGerald, Scott Fisher of USC's School of Cinematic Arts and Dutch artist Sander Veenhof.
The symposium and workshop are free but space is limited, so reserve your spot at both today!