As you know, Product Design alum and faculty member Frido Beisert has created a beautiful book, To Draw Is to See, of the work of the late Norm Schureman. It's currently available for purchase online at Blurb, and it's beautifully done. Beisert has explained that by using the online publisher Blurb (rather than involving a printing company), all proceeds go to Schureman's two sons.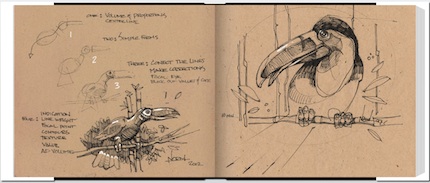 And even better—Blurb named To Draw Is to See book of the week last week!
From the Blurb blog: "Every once in a while, a book comes along that reminds us how very powerful the act of honoring one's story by making a book can be. To Draw Is to See is such a book."
They interview Beisert on Schureman, creativity and how to tell your own story.
Beisert on Norm: "Norm was all about being creative and helping others, and we very much hope that this book will help inspire the artists and designers of the future to start creating. I often tell my students that the difference between a creative and a non-creative person is that the creative one creates. It is that simple. By doing we expose ourselves to learning and by learning we improve automatically."
It's a great interview—take a look. Read more: Book of the Week: To Draw Is to See