The Summer Term Business Dialogue Series kicks off tomorrow. Presented by Art Center's Art Center's Office of Career Development, the hour-long presentations introduce students to the diversity of opportunities available in the fields of art and design.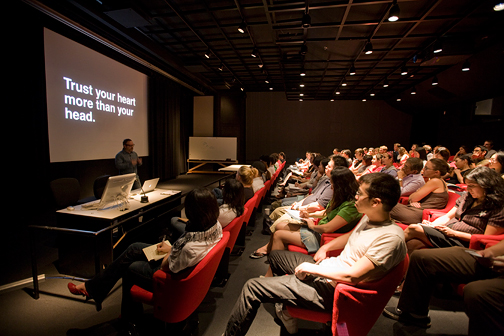 Each term, leaders of design firms and studios come to campus to create awareness of their businesses, showcase their work and engage in conversation with students.
The give-and-take in these one-hour sessions exposes students to details about a variety of fields, to opportunities they didn't know existed and to the expectations of employers.
The sessions are held at the Hillside Campus Boardroom, and free and open to current Art Center students.
Tuesday, May 31
MIKE MURPHY: Hollywood, Calif.
Guest Speaker: Mike Murphy, Animation Director
Tuesday, June 7
CRISPIN PORTER BOGUSKY: Boulder, Colo.
Guest Speaker: Matt Walsh, Vice President of Experience Design
Tuesday, June 14
NIKE: Beaverton, Ore.
Guest Speaker: David Schenone, Director of Design and Innovation
Tuesday, June 21
BMW GROUP/DESIGNWORKS USA: Newbury Park, Calif.
Guest Speaker: Chris Chapman, Director of Automotive Design
Tuesday, June 28
ENTREPRENEURSHIP with KILLSPENCER: Los Angeles
Guest Speaker: Spencer Nikosey, Creator
For more information about the Business Dialogue Series, contact Art Center's Office of Career Development at jobs@artcenter.edu or 626.396.2320.