Change Observer brings us an update on the Camel Mobile Clinic, a system for transporting medicine via camel to remote African communities.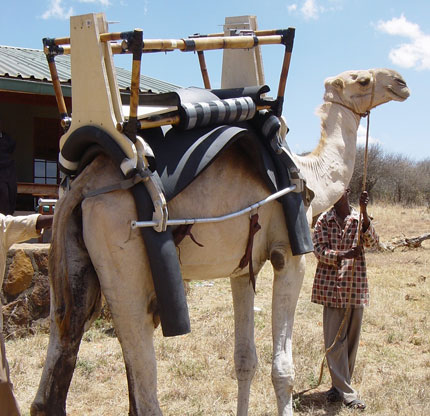 The innovate solar-powered camel saddle packs were envisioned in a 2006 Designmatters project, Integrated Mobile Health Clinics for Remote Communities in Kenya, which was selected as a finalist in the World Banks' Development Marketplace competition in 2007.
These remote African communities have few roadways and harsh terrain, making travel challenging. Camel convoys are the most efficient means of transportation for these areas, and the only way to deliver much-needed medicine and vaccines. A lack of equipment and refrigeration has made providing supplies to these areas almost impossible. The camel packs, powered by solar panels, can bring refrigerated medical necessities to these areas—in turn saving countless lives.
From the article: "Over the past year, further field-testing of the saddle-packaging system led to design modifications that are more in line with what local people use. In the original version, for example, a larger semi-circular contact area with the camel—which caused the saddle to slip if the animal changed its gait—was replaced with a smaller system with only one point of contact, making it more stable."
The new design has been tested over short distances, and later this year it will be field-tested on a longer trek delivering medicine.
Read more: Camel Mobile Clinic Update and Integrated Mobile Health Clinics for Remote Communities in Kenya