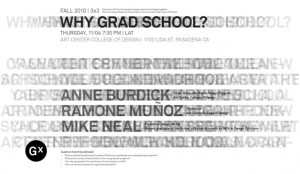 Each term Art Center's Graphic Design Department brings together three LA-based design professionals to discuss a particular topic of interest to their students. This term, 3×3 will look into the issues surrounding graduate school.
Speakers include Chair of Graduate Media Design Anne Burdick, Art Center professor and alum Ramone Muñoz and Mike Neal, freelance design writer and recent graduate of the School of Visual Arts with an MFA in design criticism.
The group will address:
What are the philosophical and creative differences in graduate and undergraduate programs?
What are the unique characteristics of the top graduate programs?
How have graduates from particular schools shaped our field?
How one can best prepare for a graduate education?
It's a must-attend event for all Art Center Graphic Design students.
3×3: WHY GRAD SCHOOL?
Thursday, Nov. 4, 7:30 pm
Los Angeles Times Media Center
Also next week, the Graphic Design Department is holding an internship preparation workshop for Graphic Design students with faculty member Petrula Vrontikis, a designer, author and educator and creative director and owner of Vrontikis Design Office.
Internship Preparation Workshop
Monday, Nov. 1, 1-2 pm
Boardroom, Hillside Campus
Graphic Design students, don't miss either of these great events!