It's the start of the term and that means one thing: a new Big Picture Lecture series. The Toyota Motor Corporation Endowed Lecture Series brings visionary thinkers from around the world to campus to discuss the cultural and political currents shaping art and design.
The series kicks off today at 1 pm in the Ahmanson Auditorium at Hillside Campus. All lectures are free and open to the public. Coming up for Fall Term: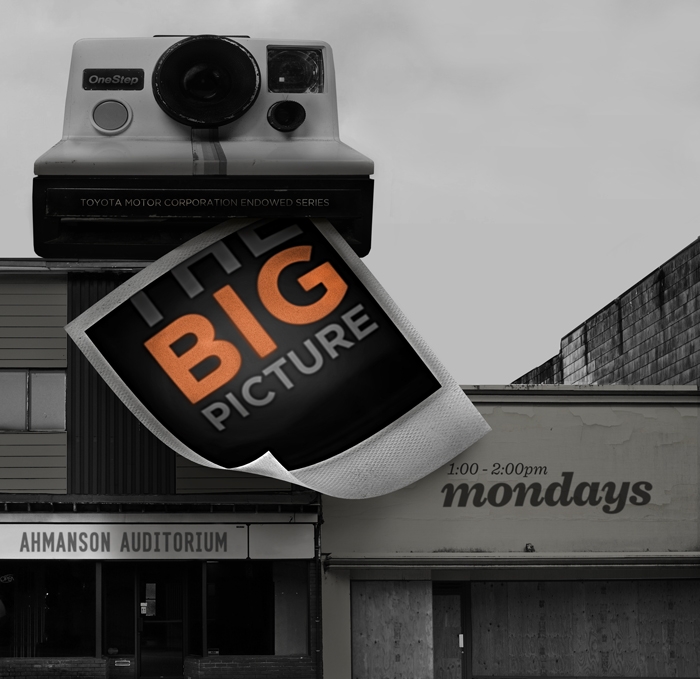 September 27: Joann Kuchera-Morin, Composing in N-Dimensions
Joann Kuchera-Morin is a composer, professor and researcher in multi-modal media systems, content and facilities design. The culmination of Kuchera-Morin's research efforts is the one-of-a-kind Allosphere Research Facility—of which Kuchera-Morin serves as director—at the University of California, Santa Barbara. Her years of experience in digital media research led to the creation of the University of California's multi-million dollar sponsored research program, the Digital Media Innovation Program, of which Kuchera-Morin served as chief scientist from 1998 to 2003.
October 4: Hershel Parker, My 50 Years with the Confidence-Man
Hershel Parker is the author of Herman Melville, A Biography; Flawed Texts and Verbal Icons and Reading Billy Budd, among others. Professor emeritus of English at the University of Delaware, Parker co-edited the Norton Critical Edition of Moby Dick and served as editor of the Norton Critical Edition of The Confidence Man. He is associate general editor of the Northwestern-Newberry edition of The Writings of Herman Melville.
October 25: Lisa Margonelli, Designing for Cognitive Dissonance: The Weird Relationship Between Gas Pumps and US Energy Policy
Lisa Margonelli directs the energy policy initiative at the New America Foundation, a non-partisan think tank based in Washington, D.C. She spent four years following the oil supply chain to write Oil on the Brain: Petroleum's Long, Strange Trip to Your Tank , published in 2008. Recognized as one of the 25 Notable Books of 2007 by the American Library Association, Oil On the Brain also won a 2008 Northern California Book Award for general nonfiction.