While many students were feeling the pressures of final exams and likely recovering from recent all-nighters, a team of Art Center students rallied together to participate in the second Annual Collegiate Field Tournament last Friday night.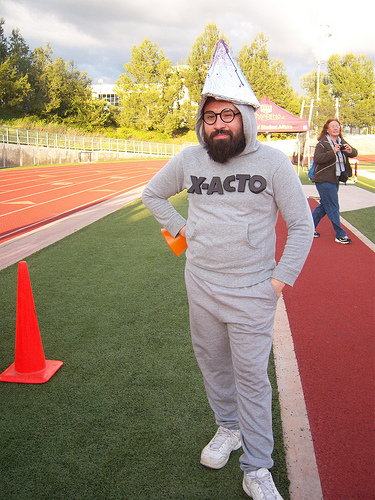 Art Center, along with Caltech, PCC, Le Cordon Bleu, Pacific Oaks and Fuller Theological Seminary competed in an array of challenges that included the Lego Car Design Challenge, Capture the Flag, Amazing Russet Race, Monster Croquet, and Frisbee Challenge.  The Art Center team was comprised of 10 students both undergraduate and graduate across majors. Although smaller than the other teams in sheer number, the Art Center team brought a spirit of collaboration and passion to each event. Teams created unique uniforms, and Art Center chose to represent various tools used by artists and designers—such as an X-Acto knife and Sharpie maker.
"Quality is more important than quantity," said Team Captain, Advertising student Dante Barsotti, who was visibly  unphased by the larger teams Art Center faced. "I love competition and the opportunity to bring some glory to Art Center. Not to mention, to show people that we don't just sit around behind computers all day."
Representatives from ACSG, CSE, Marketing and Communications, and alumni came out to PCC's Robinson Field to support the team.  "It was great to see students off campus, outside in the fresh air, and having fun," says Hannah Huang, director of International Exchange and Study Away.
A great time was had by all. Check out the slideshow from the event below.