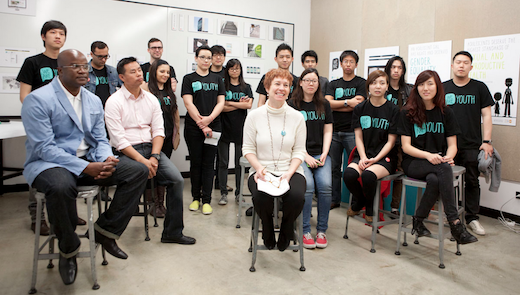 This past spring, students in a Graphic Design Department-hosted Designmatters studio were challenged to create an integrated campaign for the United Nations Population Fund (UNFPA) to advocate for young people's rights to health, education, protection, respect and participation in decision-making for their future.
Not only did the students meet that challenge with aplomb with "We Are Youth," their campaign which premiered this past summer at Rio+20, the United Nations Conference on Sustainable Development in Rio de Janeiro, but now their work has also won a top honor at the annual Spark Design Awards.
The "We Are Youth" campaign—designed by students Pamela Abolian, Brett Beynon, Kenneth Chan, Andrew Chen, Lisa Chen, Ka Kit Cheong, Daniel Choi, Il Chan Chun, Heather Grates, Crystal Kim, Kevin Lam, Esther Park, Jerod Rivera, Lamson To and Hyunsun Yoo—won the Spark Awards' highest honor, the Spark!, in the competition's Communications student category.