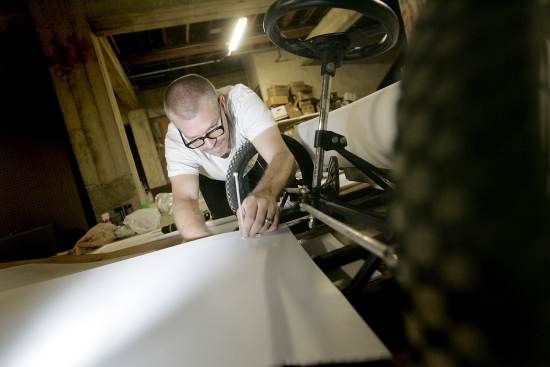 Art Center Product Design alum and faculty Grant Delgatty is taking a unique approach to tomorrow's Red Bull Soapbox Race in downtown Los Angeles, based on his new Urshuz line of footwear.
From the Pasadena Star-News:
Utilizing fasteners, buyers can attach and swap different styles of tops to Urshuz soles, or convert them into sandals. That's pretty much how Soleman Redemption, Delgatty's entry in the 10th annual event race, will work.
While he's hurtling at 35-40 mph down South Grand Avenue, Delgatty will rip away Soleman Redemption's foam top resembling a giant shoe to reveal a giant sandal underneath.
"Then at some point in the course, I'll rip off the sandal, so it'll just be the sole," said Delgatty, who teaches product design at Pasadena's Art Center College of Design.
We'll be bringing you more on Delgatty's Urshuz next month, so stay tuned.
Be sure to read the rest of this great article, and check out the slideshow: Pasadena team will compete in this weekend's Red Bull Soapbox Race
Good luck, Grant!