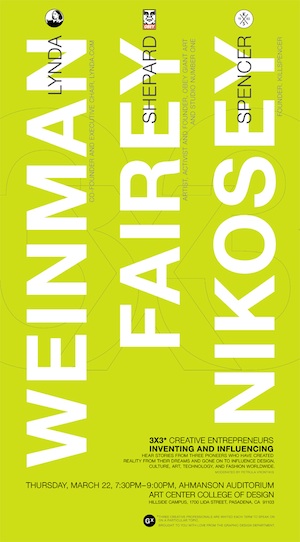 Each term, Art Center's Graphic Design Department hosts a 3×3 presentation in which three creative professionals are invited to speak on a particular topic.
This Thursday, the Art Center Community is invited to hear stories from three pioneers who have created reality from their dreams and gone on to influence design, culture, art, technology and fashion worldwide.
The speakers are:
Shepard Fairey, Artist, Activist and Founder, OBEY GIANT ART and Studio Number One
Lynda Weinman, Co-Founder and Executive Chair, lynda.com
Spencer Nikosey, Founder, KILLSPENCER
Moderated by Petrula Vrontikis
3×3: Creative Entrepreneurs
Thursday, March 22nd, 2012
7:30 p.m. – 9:30 p.m.
Ahmanson Auditorium
Art Center College of Design
Hillside Campus
1700 Lida Street
Pasadena, CA 91505
FREE; no reservations required.
Lynda Weinman, co-founder and executive chair of lynda.com, is a self-taught computer expert, author, educator, and entrepreneur. Before launching lynda.com, she was a faculty member at Art Center College of Design and worked as an animator and motion graphics director in the film special effects industry. Lynda has also been a consultant for Adobe, Macromedia, and Microsoft, and has conducted workshops at those organizations in addition to Disney. She, along with her husband and co-founder Bruce Heavin, evolved lynda.com from its original concept as a free web resource for her students, to the site for her books on Web design, to the registration hub for physical classrooms and conferences, to a highly successful online training library. lynda.com
Shepard Fairey was born in Charleston, SC in 1970. He received his B.F.A. at the Rhode Island School of Design in Providence. While at R.I.S.D. he created the Andre the Giant as a Posse sticker that transformed into the OBEY GIANT art campaign with imagery that has changed the way people see art and the urban landscape. His work has evolved into an acclaimed body of art which includes the 2008 "Hope" portrait of Barack Obama which can be found in the Smithsonian's National Portrait gallery. Since the beginning of his career in 1989 he has exhibited in galleries and museums around the around the world, indoor and outdoor. His works are in the permanent collections of the MOMA, the Victoria and Albert Museum, the Boston ICA and many others. For more information, visit obeygiant.com
Spencer Nikosey launched his premium bag and luggage brand KILLSPENCER at his Art Center grad-show in 2008. Handcrafting functional Weekender Bags, Backpacks, and Messenger Bags out of used-in-combat military truck tarps and vintage Korean War Era fabrics caught the attention of bloggers and instantly kickstarted an online following and customer base. Soon, demand increased and local production became problematic. Frustrated with the lack of quality and attention to detail in local factories, Spencer decided to assemble a team of master craftsmen and build his own Workshop in the Downtown Los Angeles Arts District. Today, Spencer and his team of passionate creatives designs, develops, manufactures and ships their products globally, proudly made in U.S.A. killspencer.com