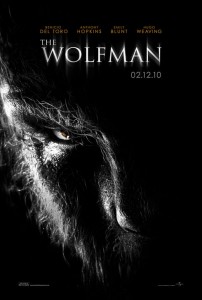 There will be a special screening on campus of The Wolfman today. Film Department instructor Allen Daviau will host the 35mm screening of the Universal Pictures film for his Cinematography 5 Seminar. A Q&A with the film's director of photography, Art Center alum Shelly Johnson, will follow.
A cinematographer and award-winning painter, Johnson has shot more than 50 feature and television projects including Tales from the Crypt, Teenage Mutant Ninja Turtles II, Jurassic Park III, The Last Castle, Hidalgo, Sky High, The House Bunny and many more. The Wolfman, a reimagining of the 1941 horror classic, was directed by Joe Johnston, written by Andrew Kevin Walker and David Self, and boasts an all-star cast including Benicio Del Toro, Anthony Hopkins, Hugo Weaving and Emily Blunt.
The event is open to the entire Art Center community, as space allows.
The Wolfman Special Screening and Q&A
Thursday, February 18, 1 pm
Ahmanson Auditorium