Food in Berlin: Part 1
This is a food post. Warning: You might get hungry.
Yelp is my best friend, I take reviews very seriously. I guess you can call me a foody, foodie, food-y, or whatever you call it. But I'm not the kind of person that takes pretty pictures of foods for Instagram. (Although, I do.) What I mean is that I do my research, then I take in all that a sharing or having a meal has to offer.
First, I've officially been to more restaurants and eaten more food in Berlin than most of my Berlin-born, German friends. Does that say a lot? Maybe this says more:


Currywürst at Curry 36

Johannes sausages at Weihenstephaner Berlin, Hackescher Markt

Cocolo Ramen, Kruezburg, Berlin

Piccolo Pizza, Kurfurstendamm, Berlin

Hodori, Schöneburg, Berlin
The best Korean food I've had so far that is reasonably priced.

Pho at Dong Xuang Center
This place is a huge warehouse Vietnamese mall in far east Berlin. It's definitely an interesting place to visit.

Pork steak at Hofbräu Berlin, Alexanderplatz
An indoor Biergarten and for that original German meat…just too good. Also, some German desserts!

Five Elephant, Kruezberg
THE BEST CHEESECAKE IN BERLIN

German style potato soup at Soup + Salat, Prenzlauberg

Pork meat at Tiergartenquelle
The best biergarten and restaurant in Berlin, seriously. And right next to our dorm!

Omelette at Die Feinbäckerei, Schoneburg

Beef Pho at ManNgo
The best pho noodles I've had in Berlin, very authentic! And their homemade banana pudding is to die for…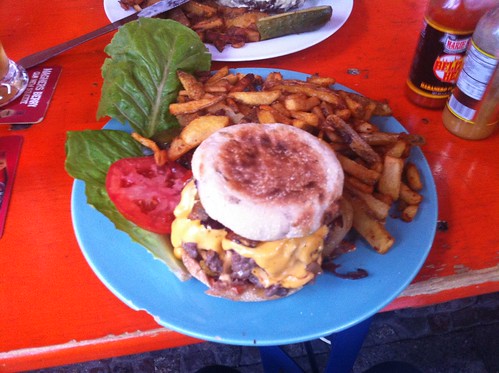 The bird at THE BIRD
Now you know that I can eat…I love a good burger. Berlin knows how to make meat. MUST TRY!

Prinzessinnengarten, Kruezuburg
This urban garden is dedicated to create one dish with ingredients directly from their garden. It's a great experience! Also, always fresh and healthy. Very vegan and vegetarian friendly, not to mention, in a meat country there is a large vegan population.

Kimich Princess, Kruezburg
The Korean BBQ in Berlin is pretty good. Mainly because the meat is from German, but eaten the Korean way. Per-fec-tion.

Konkatsu at Smart Deli, Mitte

And finally, a Club Mate. The energy drink of Berlin, a Hipster thing to have one around here.
The first like infinite-scrolling food post about food in Berlin. Hope you enjoyed! More to come…because I'm always hungry.
tshchüß,
Irene