UPDATE:  You're invited to the closing party Thursday, Aug. 23 at 7 p.m.
Last chance to see exhibition honoring Helmut Newton
Join the photographers, models and friends for a celebration of this critically praised exhibition featuring the photography of three Art Center alumni who were mentored by Helmut Newton.  Please RSVP to suzanne.valles@artcenter.edu or call 626.396.2368 for more information.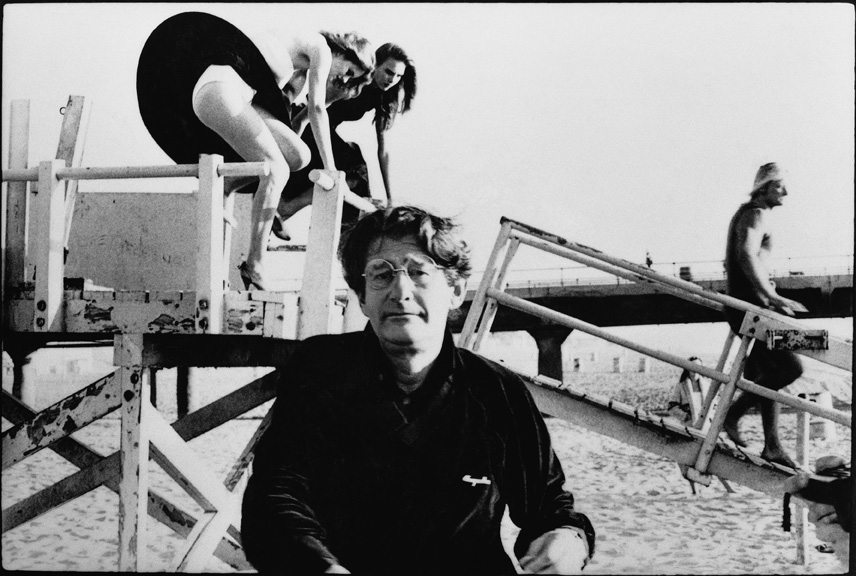 Art Center's Alyce de Roulet Williamson Gallery is proud to present Three Boys from Pasadena: A Tribute to Helmut Newton curated by June Newton. The show features the photographs of Helmut Newton's proteges Mark Arbeit, George Holz, and Just Loomis, exploring both their individual talents and their longstanding friendship with Newton and each other. In June 2010, Three Boys from Pasadena premiered at the Helmut Newton Foundation in Berlin. An expanded version of the original show will be on exhibit in the Williamson Gallery, opening June 14, 2012 and continues through August 26, 2012.  The opening reception and panel discussion at 7:00 p.m. on Thursday, June 14 is free and open to the public. A companion book originally published in France with a foreword by June Newton, will be available for purchase. If you wish to attend, please RSVP to events@artcenter.edu.
Photographers Mark Arbeit, George Holz and Just Loomis first met Helmut Newton in 1979 while students at the Art Center College of Design in Pasadena, California. All three became Helmut's assistants during one of the most exciting and prolific times in his career. For almost thirty years, as each went on to his own professional lives as photographers, they kept in touch and shared their personal work with both Helmut and June Newton. After Helmut's death, his widow and longtime artistic collaborator June conceived of a tribute exhibition for Helmut by showcasing his influence on their "three boys." In her words: "They were the only three assistants who worked with him and became photographers in their own right. Each had a unique relationship with Helmut. They've become his offspring – each with his own voice. It was a special time in their lives, and I was the witness."
This show is a homecoming, arriving back at the site of the first meeting between the Boys and Helmut. The exhibit consists of each photographer's individual work, as well as several vitrines of memorabilia, consisting of snapshots, handwritten notes, journal pages, contact sheets, and other souvenirs. In the sensual, striking fashion editorial and portraiture by Arbeit, Loomis and Holz, the viewer is able to trace a direct line of influence from Newton to his apprentices. Three Boys from Pasadena: A Tribute to Helmut Newton is an unusual memorial to one of the 20th century's most iconic photographers, and an exceptionally revealing look at personal and professional relationships among artists and proteges.
Mark Arbeit trained under Irving Penn as well as Newton and is the author of Mark Arbeit Work (2009), featuring an introduction by June Newton. Many of the pieces in the show come from his exquisite 'Artist Atelier' series, in which Arbeit shot female nudes in Parisian artists' studios, posed next to sculptures or draped on canvases. His work, much of it composed in natural light, is concerned with the abstract interplay of light and shadow, of empty and filled space. He has shot for InStyle, Marie Claire, Vogue Paris, People, Forbes, and many other publications.
George Holz' work betrays a sensuous, nuanced vision, especially in the black and white nudes that he has been perfecting since 1974. In the mid-90′s, Holz began a unique project of photographing nudes with animal bones and antlers, contrasting living flesh with ancient relics. Like Newton, George Holz has moved smoothly between personal projects and commercial work. Having published his imagery in Vanity Fair, Vogue Italia, Madame Figaro, Harper's Bazaar, Interview, and The New York Times Magazine, his forthcoming book of celebrity portraiture, Holz Hollywood, will be published by Damiani.
Just Loomis worked as a fashion photographer for Harper's Bazaar and The New York Times Magazine before turning to documentary work. His uncompromising portraits of people in the American West – from diner waitresses and cowboys to strippers and skate punks—are at once stark and compassionate, and were recently collected in his monograph As We Are, published by Hatje Catz.
All three artists are represented by Fahey/Klein Gallery in Los Angeles.
Founded in 1930, Art Center College of Design is recognized as a global leader in art and design education. The Photography and Imaging department dates back to the College's earliest days, with such notable instructors as Will Connell, Charlie Potts, Fred Archer and legendary photographer Ansel Adams.  The 4,600 square-foot Williamson Gallery draws inspiration from all the fertile domains of Art Center's educational programs, producing three major exhibitions per year. Previous exhibitions in the Williamson Gallery have focused on the work of photographers Richard Avedon, Irving Penn, Andre Kertesz and alumnus Hiroshi Sugimoto, but Three Boys from Pasadena is the first group showcase of its kind.