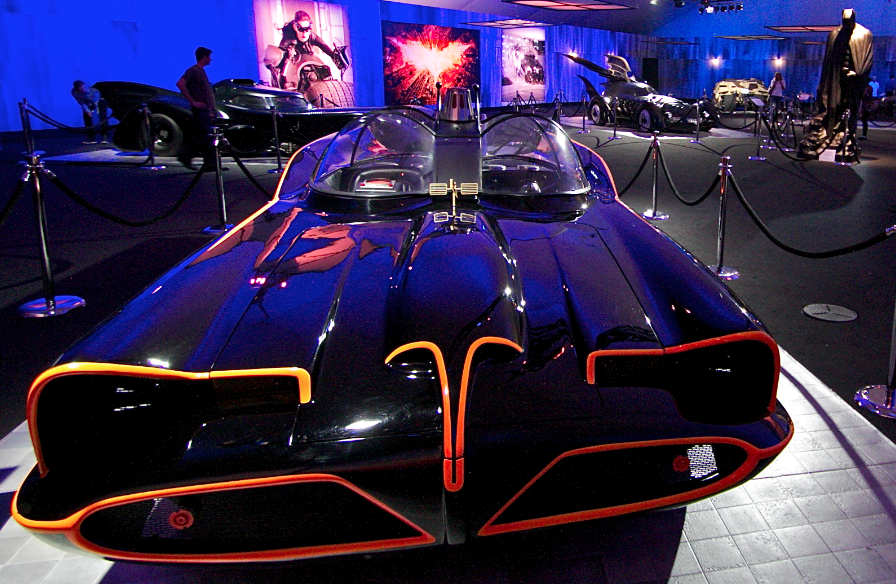 The Batmobile has undergone several on-screen incarnations — from the finned Lincoln Futura designed in 1966 in three weeks to 2012′s tank-like Tumblers that were five months (and reportedly millions of dollars) in the making.
All seven of the Caped Crusader's rides — including the Batmobile designed by Art Center's Tim Flattery — are on display through Dec. 14 as part of a free exhibit at L.A. Live in downtown Los Angeles.
More of Gotham's finest are also showcased, including costumes and props from the Batman film franchise, as well as art from a traveling DC Comic exhibit featuring work by Jim Lee.
Flattery's stealth-looking Batmobile, featured in 1995′s "Batman Forever" with Val Kilmer at the wheel, was powered by a 25-gallon propane tank that could shoot a 25-foot flame from the rear exhaust.
"You have to be a geek to do this," said Flattery, chair of Art Center's Entertainment Design Department, while speaking on a panel with other Batmobile designers. (Flattery's other film credits include "Men in Black 2," "Mission: Impossible III" and "Pirates of the Caribbean: Dead Man's Chest." He's currently working on "Captain America.")
The vehicles have been on a five-week, multi-city tour timed with the Dec. 4 release of "The Dark Knight Rises" on DVD and Blu-ray Combo Pack, which features an hour-long documentary about (what else?) the Batmobile.