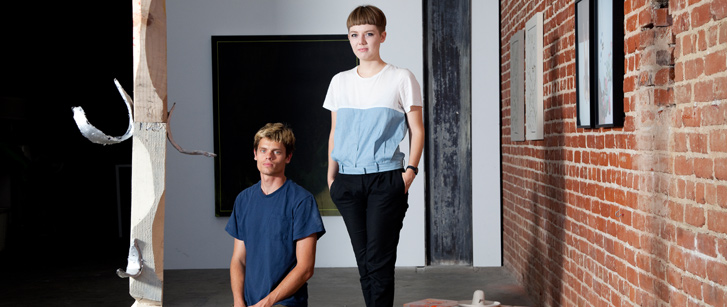 Art Center artists show how their majors—and the scholarships that support them—can be powerful investments in creating community.
Control Room
Graduating from Art Center, Fine Art alumni Evelena Ruether FINE 09 and William Kaminski FINE 09 didn't want to lose track of the many remarkable artists they had met here.
"So often, once you leave school everyone disperses to pursue their individual careers," Ruether explains. "We wanted to stay in touch with the community we'd created at Art Center. At the same time, we felt that many of our peers were doing work that was as good, or better, than what we were seeing in commercial galleries, and we wanted to create a place for them to exhibit their work."
In this way was born Control Room, an artist-run gallery occupying part of their live-work space on Seventh Street in downtown Los Angeles near the L.A. River. In its first years, the gallery offered a sense of community and networking opportunities for Fine Art graduates during the important early post-college years.
By sharing the cost of rent and keeping overhead low, Ruether and Kaminski find they don't have to rely on traditional financial support systems, such as grants, to keep the space going. The result is increased freedom to mount whatever shows most inspire them, from the straightforward and traditional (think photography or drawing against stark white walls) to the out-and-out wacky (think Cheetos, water balloons and a cave into which you throw hotdogs).
It also means a lot of hard work. Ruether and Kaminski share the bulk of responsibilities that might be offloaded to staff in a commercial gallery; they do everything from curate the shows to paint walls to repair fixtures.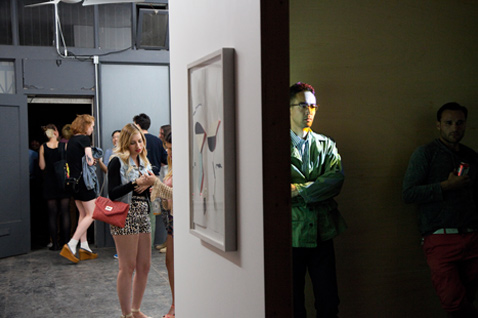 Like any healthy organism, the community of artists created by Control Room is growing and changing right along with its founders. What had started out largely as a place for college grads to show their work has expanded to include artists from graduate programs all over Southern California and beyond, as well as mid-career artists of varying degrees of acclaim.
According to Kaminski, Control Room's healthy following is in part the result of carefully striking a balance between the freedom of the typical artist-run gallery and the professionalism and precision of museums and commercial galleries. "Our model is always to do what best serves the work," he says. "Sometimes that means crisp light and immaculate walls. At other times it means fog machines, black lights and puddles on the floor."
So why call it "Control Room"?
These artist-curators are interested in the relationship between space and power. Ruether, who recently completed her MA in Art and Curatorial Practices in the Public Sphere at USC, says, "We wanted to be cognizant of and highlight the power structures that are part of the system we are participating in. Who is in control? The space? The artist? The curator?"
As with Lovich, scholarships from some of Art Center's key alliances played a role in helping Ruether and Kaminski complete their degrees. Kaminski received a scholarship from the San Marino League, a nonprofit organization of local women committed to philanthropic work and furthering their own knowledge of fine art. Ruether received support from the Pasadena Arts Alliance, which fosters appreciation for contemporary visual arts throughout Southern California and for nearly four decades has been a generous supporter of annual scholarships for undergraduate Fine Art majors at Art Center.
Says Kaminski, "While the experience of a fine art education is dependably transformative, there isn't always a clear occupational destination for art majors. The support provided by these organizations shows a lot of courage and deserves not just appreciation, but also tremendous respect."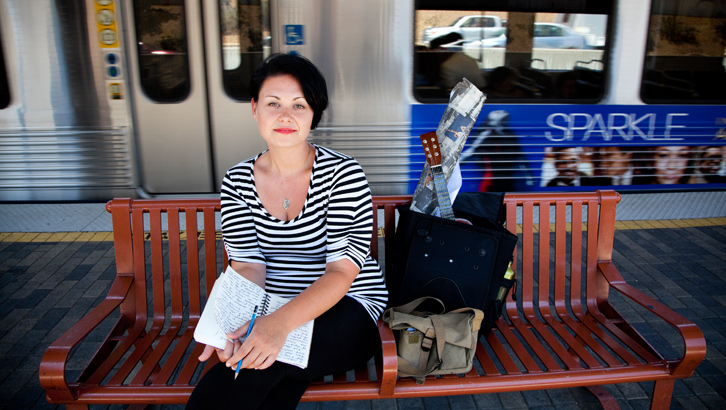 Kristy Lovich
Sixth-term Fine Art major Kristy Lovich was becoming increasingly frustrated with her commute between her home in the Boyle Heights neighborhood of Los Angeles and Art Center in Pasadena. The lengthy chain of trains and buses that took her to and from campus sometimes meant getting up as early as four in the morning. And all that commuting was eating into cherished studio time.
Then one day the artist, poet and activist had a revelation. Says Lovich, "I asked myself, what if I make the bus my studio? And the train station? And the train? What if I embrace this aspect of my life and transform it into an opportunity?"
Embrace it she did, and today Lovich can often be found making art and teaching all along her route on the Metro Gold Line. You might see her conducting spirited art classes in Union Station's iconic waiting room. Or creating chalk designs with a group of kids at one of the 21 Gold Line stations. Or hand stitching newspaper images into quilts while riding the train.
The result of her work has been an explosion of small, vibrant communities — sometimes planned, sometimes unexpected, often temporary — where creativity and conversation reign, and where participants learn about drawing, painting, photography and a host of other art forms.
Art Center artists show how their majors—and the scholarships that support them—can be powerful investments in creating community.
She often invites strangers to stop and make art with her, and sends out announcements via social media to spur gatherings of artists. At other times, small learning communities will spring up around her without warning — like the time a group of women walking through Union Station noticed her sewing one of her signature paper quilts and came over to investigate.
"It turned out they were a quilting group," Lovich says. "They were fascinated by what I was doing, and so excited to see a younger person interested in quilting as a contemporary art form."
What followed was, in essence, an impromptu seminar in which the quilters shared their experiences and exchanged ideas about the role of art in the domestic sphere. "Everyone took away something meaningful from the experience," she adds. "It was art school. It was community. It was education."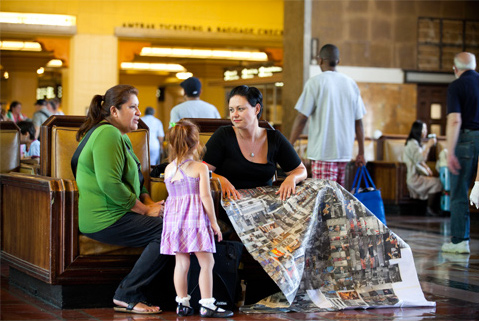 At other times, the act of creating in a public space sparks confrontation. Lovich recalls the time she positioned herself across from Starbucks in Union Station — and proceeded to offer memories for sale to passersby for 50 cents each.
"Of course, the police approached me and said I couldn't sell things there," she says. "I explained I wasn't selling 'things' but rather my own memories to people who wanted to hear them. The police were really confused. We had a long discussion about semantics. They eventually agreed that if I changed the word on my sign from 'sale' to 'barter' that I wasn't violating any laws."
If Lovich sounds like a bit of a troublemaker, she insists that her efforts are well-intentioned, growing out of a strong personal commitment to social justice and a high regard for activists, writers and artists dedicated to what she calls "sculpting our communities into healthy and equitable spaces."
For Lovich, that means using art, and the place and manner in which it is created, to prod at existing assumptions about public space, power, privilege and history. "I want to create situations that puncture those assumptions just a little bit," she says. "To be effective as an activist you don't need to hold up a sign saying what you think the problem is, because the action itself will expose the problem within the system."
The scholarships she has received to support her Art Center education reflect the value others see in her work as well. She has received funding from several sources, including an annual scholarship fund benefiting Fine Art majors established at Art Center by the San Marino League of California, a nonprofit organization of local women committed to philanthropic work and furthering their own knowledge of fine art.
"To have such support from the community is really meaningful and encouraging to me, and I'm incredibly grateful," Lovich says. "I don't qualify for private loans, so without scholarships I wouldn't be able to attend Art Center."
Next on tap is a project Lovich calls 21 Stops, a zine she is creating that will feature the work of 21 writers, one for each stop along the Gold Line. The zine, in Spanish and English, will appropriate the design and form of the current Gold Line train schedule. Lovich plans to distribute it in the schedule holders on trains, camouflaged among the actual train schedules.
Does she foresee any problems with the Los Angeles Transit Authority? "Possibly," she says. "I mean, I'm kind of inviting that, right? But I want to better understand: What is the relationship between public and private? Between personal identity and collective identity? What gives one organization more political power than the individual? It's not like I have answers for those questions. But I want to ask them. I think it's important to have that conversation."
By Mike Padilla; photos Jenni Warren (PHOT 05)