VIDEO:  Watch artists Augustyniak, Amzalag in conversation with Illustration Associate Chair Aaron Smith and instructor Nancy Reigelman here.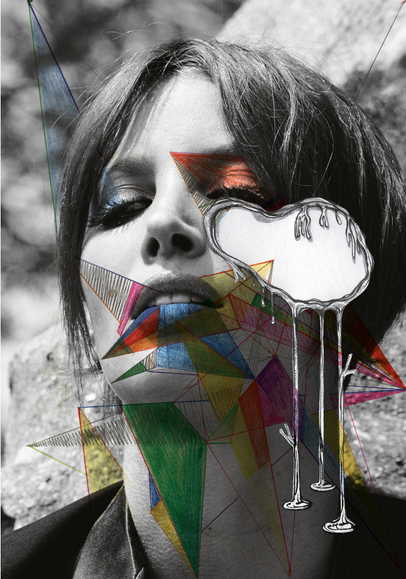 Art Center College of Design is pleased to announce the first ever West Coast exhibition by M/M (Paris), the celebrated Paris-based art and design partnership created by Mathias Augustyniak and Michaël Amzalag in 1992.
The exhibition M/MANIFESTATION runs March 8–April 28 at the Alyce de Roulet Williamson Gallery at Art Center's Hillside Campus.
The free opening night events on Thursday, March 7 begin with a conversation with M/M (Paris) at 7:30 p.m. in the Ahmanson Auditorium, followed by a book signing and reception in the gallery. Please R.S.V.P. to events@artcenter.edu.
M/M's close associations with the art, music and fashion worlds have led to their becoming one of the most distinctive and acclaimed creative voices of their generation, within graphic design and beyond.
As design historian and curator Alexandra Midal stated, "M/M (Paris) holds a unique position in the international landscape of graphic design. In addition to developing a subtle political analysis of everyday signs and practices, Augustyniak and Amzalag engage in self-reflective research into the capabilities of graphic design. Their work extends beyond conventional borders while reimagining graphic design through their practice and their collaborations. M/M are 'shifting experts:' they make graphic design shift from a mediation status to becoming a work of art in itself."
The exhibition M/MANIFESTATION has been conceived as the first in a series of events to coincide with the release of the 528-page monograph celebrating Amzalag and Augustyniak's 20th anniversary, M to M of M/M (Paris), published by Rizzoli.
M/MANIFESTATION will feature a selection of more than 100 M/M posters uniquely displayed against the new "Double Agent" poster, creating a metaphoric representation of their practice. The "Double Agent" posters will cover the walls of the Alyce de Roulet Williamson Gallery from floor to ceiling.
The monograph M to M of M/M (Paris), edited by Emily King, presents hundreds of projects arranged alphabetically from 'M' to 'M' and features collaborations with the finest from a spectrum of creative worlds, including fashion works with Balenciaga, Calvin Klein, Stella McCartney, Marc Jacobs and Yohji Yamamoto; music works with Björk, Kanye West and Madonna; magazines such as Vogue Paris, Arena Homme+ and Interview; plus art projects and international exhibitions. Interviews with some of the duo's closest collaborators— such as Björk, Nicolas Ghesquière, Pierre Huyghe, Inez van Lamsweerde & Vinoodh Matadin, Sarah Morris and Glenn O'Brien, and conversations with Amzalag and Augustyniak who reveal their specific areas of interest and define their creative positioning.
M/M's works are held in the collections of the Tate Modern, London; the Stedelijk Museum, Amsterdam; Centre Pompidou, Paris and the MMK/Museum für Moderne Kunst, Frankfurt. In October 2012 the exhibition 'The Carpetalogue,' a series of elaborate rug designs acting as a condensed catalogue for M/M's practice, was presented at Gallery Libby Sellers, London.
THE DETAILS
Art Center College of Design, Pasadena
Alyce de Roulet Williamson Gallery
March 8 — April 28
Opening reception, presentation and book signing Thursday, March 7