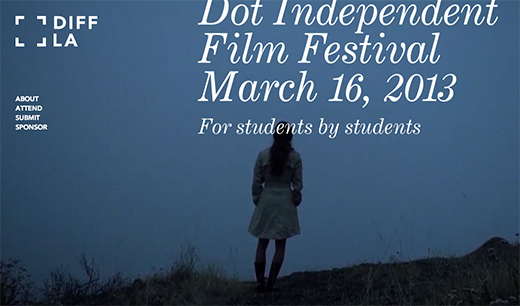 Jonathan Dayton, Valerie Faris, Tom Kuntz and Matthew Rolston speaking at March 16 event honoring student films from around the world
March 12, 2013, Pasadena, Calif.—Visionary director and Art Center College of Design alumnus Zack Snyder (Man of Steel, 300) is set to open DIFF | LA, the Dot Independent Film Festival, the premiere student-led film festival on the West Coast taking place Saturday, March 16, 2013 from 9 a.m. – 11 p.m. on the Art Center College of Design Hillside Campus at 1700 Lida Street, Pasadena, Calif., 91103.
In addition to screening official selections in the categories of Directing, Cinematography, Writing and Editing, the event will feature presentations by Snyder and the critically acclaimed directing team of Jonathan Dayton and Valerie Faris (Little Miss Sunshine, Ruby Sparks), Emmy-winning commercial director Tom Kuntz (Old Spice, Skittles), and legendary photographer and filmmaker Matthew Rolston (Kelly Rowland, Christina Aguilera).
DIFF | LA has been organized by students from Art Center College of Design for film students from a vast number of schools to unite, form collaborative relationships and inspire one another. Originally conceived of as a U.S. film school competition, the awards competition quickly went global with more than 150 entries submitted from as far away as Egypt, France, Pakistan, Great Britain, Canada, Czech Republic and more—all generated by word of mouth and social media.
DIFF | LA is completely comprised of and led by a collection of students from Art Center College of Design, including not only Film majors, but also students from Advertising, Graphic Design, Environmental Design, Illustration and Product Design. Showcasing student expertise in each of these fields, DIFF | LA offers a fresh and young approach to the creative landscape while encouraging the next generation of filmmakers to unite and share their stories with the world.
Tickets are $10 for a full day of distinguished speakers, screenings, and access to a diverse, talented group of dedicated, young filmmakers. No host luncheon and reception scheduled. Register online at http://diffla.org or in person the day of the event. Speaker line up is subject to change.  Visit http://diffla.org for more information.