Campus is buzzing as it kicks off its Spring Term 2013 graduation week! Here's what's in store as the College prepares to launch the next wave of creative talent in to the professional world.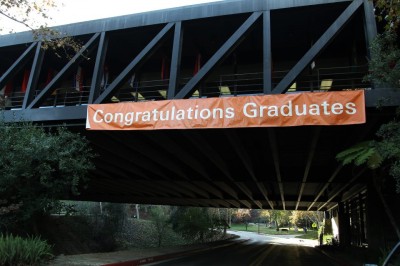 Thursday, April 18
Industry leaders and professionals, employers, corporate partners, donors and alumni will get the first look at the Spring Term's graduating artists and designers at this year's invitation-only Graduation Show Preview. The show will feature student accomplishments from major fields of study at Art Center, including Advertising, Entertainment Design, Environmental Design, Film, Graphic Design, Illustration, Photography and Imaging, Product Design, Transportation Design, Graduate Industrial Design and Graduate Media Design Practices.
Graduation Show Preview at Hillside Campus is held from 6:00 to 9:30 p.m. and transitions into a private reception hosted by Alumni Relations immediately following. Simultaneously, from 6:00 to 9:30 p.m., Graduate Media Design Practices hosts the MDP/Lab Thesis Exhibition at South Campus where the world famous Kogi BBQ Truck will be parked to feed attendees.
Saturday, April 20
Join us in the Sculpture Garden at Hillside Campus from 4:00 to 6:00 p.m. as we celebrate the newest graduating class during our graduation ceremony. Legendary designer Dieter Rams will receive an honorary doctorate degree and deliver the commencement address. We will also hear from valedictorian and Illustration student Agnes Hyun-Jeong Lee and present the Art Center Student Leadership Award to Product Design student Vladimir Almonnord.
After the ceremony, Graduation Show opens to the public from 6:00 to 9:00 p.m. so everyone can enjoy the work of the newest Art Center graduates. In addition to Hillside Campus activities, Graduate Art and Graduate Media Design Practices hosts Graduation Show at South Campus from 6:00 to 11:00 p.m.
The parking lot at Hillside Campus will fill up, so anyone attending Graduation Show on Saturday will be able to take complimentary shuttles to and from the Rose Bowl, Lot K beginning at 6:00 p.m. Self-parking will be available at South Campus throughout the evening.
Congratulations to our Spring Term 2013 graduates!