In her quest to transform the known into something curious and unexpected, Los Angeles-based artist Lynn Aldrich makes a habit of scouring hardware stores such as Home Depot for materials she re-fabricates into colorful new constructions reflecting playfully on domestic architecture.
"By making these sorts of archaic physical objects that one has to walk around in reality and be near to experience," says Aldrich, "I'm attempting to call attention to your physicality in a world that is more and more in a cloud of information." Out of Ink, In the Dark might at first glance be mistaken for an assemblage of pads of the digital era, instruments of that very cloud. Instead, it's a classic Aldrich "object," as sly as it is seductive. Made of old-school ink pads, the piece sold the same day we caught up with the artist while she was installing a two-decade retrospective exhibition of her work, Lynn Aldrich: Un/Common Objects, on view through January 2014 at the Alyce de Roulet Williamson Gallery. The San Francisco gallery where Out of Ink was on display called to tell her that an East Coast collector had just purchased it.
The exhibition opens Friday, October 11 in celebration of ArtNight Pasadena. The opening night reception on Thursday, October 17, from 7 to 9 p.m., is free and open to the public. RSVP by sending a note to events@artcenter.edu.
Guest co-curators of Un/Common Objects are Christina Valentine, faculty member at Art Center College of Design and G. James Daichendt, Ed.D. associate dean and professor of art history at Azusa Pacific University.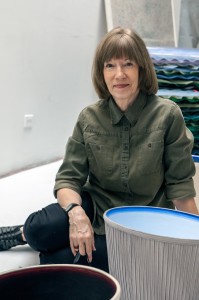 Born in Bryan, Texas, Aldrich moved around a lot as the child of an Air Force scientist.  She met her husband in Pennsylvania and together they moved west to Los Angeles. "Art Center was a much smaller place in the '80s and it felt like an intimate family in a lot of ways," says Aldrich, who was one of only three MFA students in the Graduate Art program when she arrived. "It was a window on to the wider world for me.  It was like scales fell off my eyes and I realized the potential for what could be done—and that is an amazing experience."
Starting out as a painter, she was strongly influenced by the 'making' environment at Art Center and gradually evolved into an object maker. "Both were very influential," she says of her mentors Jeremy Gilbert-Rolfe and Stephen Prina. "They helped me realize that fine art was something philosophical and critical of the status quo and yet something that could be beautiful and pleasurable and generous to the viewer."
When asked about the value of an art degree, Aldrich says you learn how to think in a way that could be applied to a lot of different areas.
"Certainly that classic idea that art makes you in to a human being is something that I still am romantically attached to. You're not a machine, you're a human being. In our culture today, I think a lot of young people want to feel that there's something more spiritual, more poetic and romantic about life, something very human. And it's not really machines or technology.  Those are very useful things.  But they don't constitute our identity as human beings."
Aldrich uses everyday materials (from rain gutters to toilet plungers) with a wry wit that acknowledges issues beyond the physical limits of the media.
"I have a palette like a painter only maybe my palette is made up of garden hoses that I buy in all these colors, or sponges and brushes," she says. "But I feel like the surface means a lot to me as well as the form.  So in a way I get to paint too, I get to treat that surface as a painterly backdrop for my interests."
For her latest group exhibition, Death and Life of An Object in spring 2012, Aldrich converted drainage spouts into manic, menacing trees and other common household items into abstract formations. Precise in their arrangement and construction, her objects and installations offer a visually and socially critical take on industrial commerce.
"Lynn's work re-frames the visual white noise made by the ubiquitous presence of mass produced objects and turns it into an aesthetic, art experience," said Christina Valentine.
A catalog will accompany the exhibition with essays provided by the curators and by Howard Fox, curator emeritus of contemporary art at the Los Angeles County Museum of Art (LACMA), as well as an introduction by Stephen Nowlin, director of the Williamson Gallery.
Howard Fox writes in his catalog essay that Aldrich is an artist of deep exploration, reflection and conviction. "Her creative practice draws on multiple disciplines," he says, "multiple methodologies and multiple desires for knowledge," he said. "She weaves them into a coherent and allusive body of work that attests to the power of the human imagination in its inborn quest for truth."
"My thinking is grounded in Realism, or what is actually present, influenced by scientific empiricism, but open to the Romanticism of a spiritual or sacred longing for revelation and authentic transcendence–what I would call 'hyper-desire,'" said Aldrich. "This is the profound paradox at the core of all true religion and artistic activity."
Throughout the past 20 years, Aldrich's work has been collected and represented by major museums and galleries including LACMA, L.A.'s Museum of Contemporary Art and the Calder Foundation in New York. She is represented in Los Angeles by Edward Cella Art + Architecture.
A limited edition print created by Art Center faculty member and master printer Tony Zepeda especially for the exhibition will be available for sale, and Aldrich plans to donate a portion of the proceeds back to Art Center to support student scholarships in the Fine Art Department.
The Williamson Gallery at Art Center College of Design is located at 1700 Lida Street in Pasadena; hours are noon to 5 p.m., Tuesday through Sunday, with extended hours on Fridays, until 9 p.m. The gallery is closed Mondays and holidays. For more gallery information, call (626) 396-2446. Williamson Gallery exhibitions are funded in part by the Williamson Gallery Patrons and a grant from the Pasadena Art Alliance.