Marvel's Captain America: The Winter Soldier flexed and flaunted its superpowers at the box office during its opening weekend, earning more than $300 million worldwide. With those kind of numbers, it clearly wasn't just fanboys (and girls) vying for an early glimpse at Hollywood's latest super-sized comic book adaptation.
This widespread embrace was particularly gratifying to Art Center Entertainment Design Chair (and resident alpha fan), Tim Flattery, who collaborated with production designer Peter Wenham on designs for the movie's spectacular Helicarrier (yes, an airborne aircraft carrier) and the Quinjet. "I love working on comic book movies," Flattery said.  "I've always been a fan and read comics as a kid."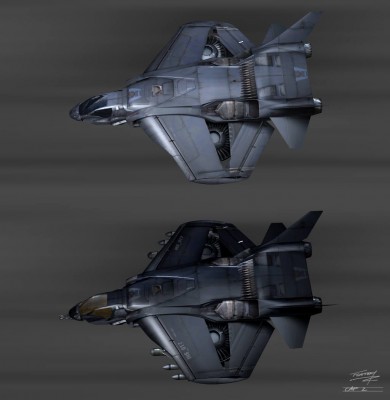 As a conceptual artist, Flattery has contributed his talents to many celluloid versions of classic comic characters, such as Spider-Man, Batman and the X-Men. Additional credits include The X-Files, Men in Black II, Saving Private Ryan, Mission: Impossible – Ghost Protocol and many more.
Flattery is not uncommon among the many industry professionals who bring their expertise into Art Center classrooms as faculty and visiting lecturers. Flattery was hired as chair of the department, not only for his impressive long career in a fiercely competitive business, but also for his deep commitment to mentoring the next generation of entertainment design professionals. "I wouldn't give up working in film because I love it. But for me, teaching is my first priority right now because it's where I'm at," said Flattery.
During a recent advanced studio class, Flattery shared war stories about deal making and navigating Hollywood's competitive playing field with the five students who are graduating this month with Bachelor of Science degrees in Entertainment Design. "It's a crucial time for these students as they transition to the professional world," he said.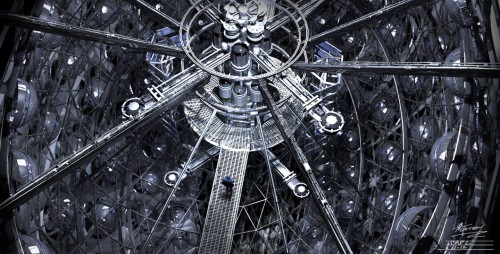 Flattery's stellar 28-year career has resulted in an impressive collection of toys, props, photos and costume mock-ups on display in his darkened office space.  The alien sitting in the corner chair can't be avoided by guests who sit across the worktable. "I'm a geek," Tim Flattery proudly tells a journalist visiting his Hillside campus office.
With Ella Fitzgerald belting out Cole Porter tunes in the background, he conducts an informal office tour. "I probably did 80 samples of that Turbo-Man suit until it was finally signed off on," he explains about the elaborate action figure costume worn by Arnold Schwarzenegger in Jingle All The Way.
"That's Jodie Foster's vest she wore in Contact– I designed and built that," he reveals, gleefully adding, "that's a first pass at a Spawn suit, it was a proof of concept."
So, tell us how and where the creative magic happens on a movie set?
"Someone like Christopher Nolan is more comfortable just sittin' in a garage with Nathan Crowley working with a bunch of clay to come up with something like the Tumbler (the Batmobile created for Batman Begins)."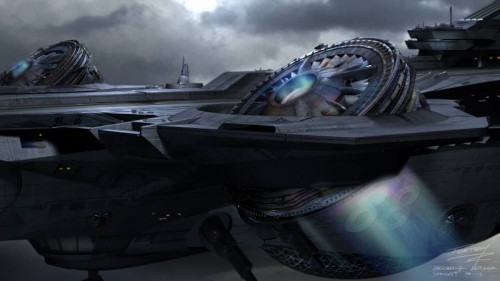 Now Flattery is on a roll, ticking off memories of creative collaborations with visionary filmmakers. "Like the Amphibicopter for Steven Spielberg (for A.I. Artificial Intelligence), he bought off on the artwork and my final rendering, but then I had to go to the detail of this model to finalize the design with him before I could build the full size," he recalled. For most of Flattery's more high-profile projects, he often establishes a creative approach and communication style tailored to each director. "When you work for James Cameron, you have to justify every nut and bolt," explained Flattery.
While designing the flying Fantasticar for Fantastic 4: Rise of the Silver Surfer, he was asked to explain its power plant based on known technology.  "So it was powered by an ion generator which is known technology that NASA wants to use to prolong space flight," he said. Flattery isn't just building prototypes. His designs have to be road-tested and fully functional. "Take the Batmobile (in the movie Batman Forever) for instance, not only do I have to be responsible for building it, but Val Kilmer's going to be driving it, and you're responsible for his safety."
Next up for Flattery:  Tomorrowland starring George Clooney, directed by Brad Bird, due out in 2015, and Marvel's Ant-Man. If his past work is any indication, we fully expect Flattery to equip the mystery-solving insect superhero with enough tricked-out gadgets and devices to lay waste to an army of villains.