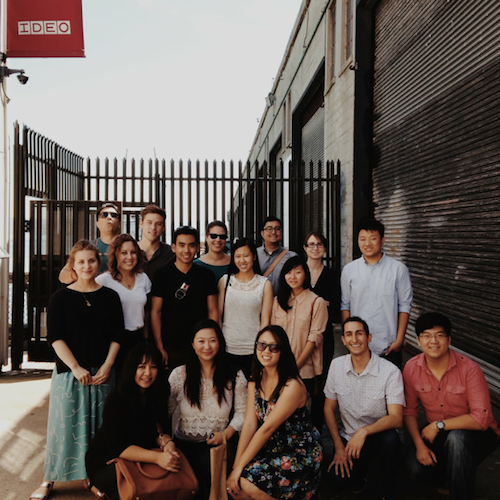 Hailing Uber cabs, grabbing a cup of the Bay Area's finest coffee, snapping photos of Fisherman's Wharf and meeting with some of the biggest design consultancies on the West Coast—it's all in a day's work for the the members of Art Center Business Club.
This past May, 14 members of the Art Center Business Club (ACBC) packed up for a week of exciting studio tours in San Francisco– ten in all. The agenda included meetings with such consultancies as IDEO, frog design, inc., and NewDealDesign, as well as print and media companies like Chronicle Books and WIRED.
In a time of unprecedented competition for art and design jobs, students actively seek out studios and companies they can join to jumpstart their careers. Students participate in internships offering a deeper understanding of a particular company's creative ethos and workflow without the commitment of a full-time job. However, internships are seasonal and require a significant time commitment in order to determine whether that particular organization is a good fit. This is where studio visits come in. They deliver valuable insights into working culture, company culture, company structures—all the things you don't learn as a student searching a firm's website. With this knowledge, applicants emerge more informed and prepared to face the professional world.
Over 40 Art Center students applied for the 15 available slots on the first trip. "There were so many strong applications and candidates, we wish everyone could have gone. But club resources have their limits," says ACBC Treasurer and Environmental Design student, Frank Tran. "As we grow and get more funding, we can take more [students] for future trips." Here are a few highlights from the journey through some of the world's most innovative design studios.
Sometimes it's the small details that leave lasting impressions. Lunar Design's entrance is lit like a spaceship walkway. IDEO's office is right on top of the bay piers, and has a beer garden near its back alley. At frog design there's a chill out room where people can design and hang out as they see fit. All the firms were proud of their culture and how they balanced passion with a creative life. "There's a lot of intangibles you just take in and experience being in the space," says ACBC President Pearlyn Lii (GRPH).
In terms of the the larger trends in design, firms spoke of their changing role and client base and how aspects of user experience, interaction, business and strategy were becoming integrated into main body of their work. When asked about what it takes to get hired, all were very open to sharing their priorities. A few common themes emerged: Take a stand. Be authentic. Have a unique point of view. Show all this in your portfolio and in how you interact with professionals. Exhibit your collaborative nature.
 This was valuable information to all involved. "Hearing it spoken plainly by working professionals brings it home, and they're all so down to earth," observes ACBC board member Christina Hsu (PROD). "I know we can contact these people later and not be intimidated."
Putting the trip together was no easy feat. Business Club members practiced the craft of business networking, reaching out and building relationships with alumni and contacts at studios. ACBC also received networking support from the Alumni Relations office and funding support from dedicated Art Center alumni.  ACBC also enlisted faculty mentors, like Product Design Chair Karen Hofmann (PROD 97) and Humanities and Sciences Professor Terry Lee Stone, who advised them throughout the process.  "One of the best opportunities for Art Center students to maximize their return on investment is to leverage the incredible alumni network to gain an understanding of the industry," says Hofmann. "Getting out of Pasadena to spend time in design epicenters like San Francisco provide real-world insight into the studios that students are aspiring to be a part of in the future."
 "This was a great trip that we hope will become an annual event. The trans-disciplinary nature of the studio visits, and the participants themselves, made for a unique learning experience," says Professor Stone. "It's hard to explain the 'design culture' of creative companies. You really need to experience it. That is exactly what happened on the San Francisco Trip—it's one of the things that made the event so inspiring and informative."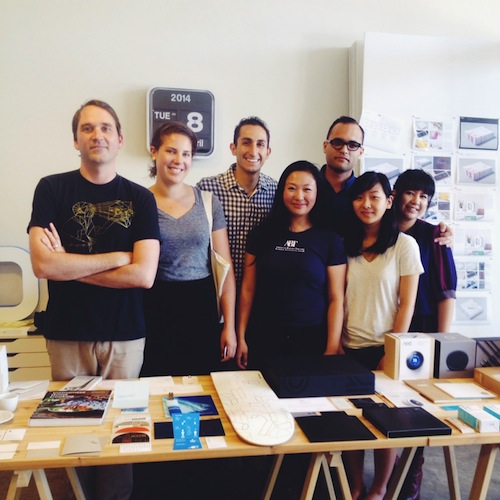 Participants are already putting that inspiration into practice.  "This trip was a resounding success, our first major initiative, but it's still really just a portion of what we do on a weekly basis," says, VP Janya Menges (GRPH). "We're really about connecting students with the professional world at all levels."
When asked about future goals, ACBC President Pearlyn Lii cites the club's vast potential for growth. "With continued support of the Art Center community, we hope to offer this to more students in the future," says Lii. "Want to get involved? We welcome student and faculty volunteers, as well as alumni participation. Please contact ACBC for more details."
Art Center Business Club meets Mondays from 1-2 p.m. in the CMTEL.
For more information: www.artcenterbusinessclub.org, or email artcenterbusinessclub@gmail.com