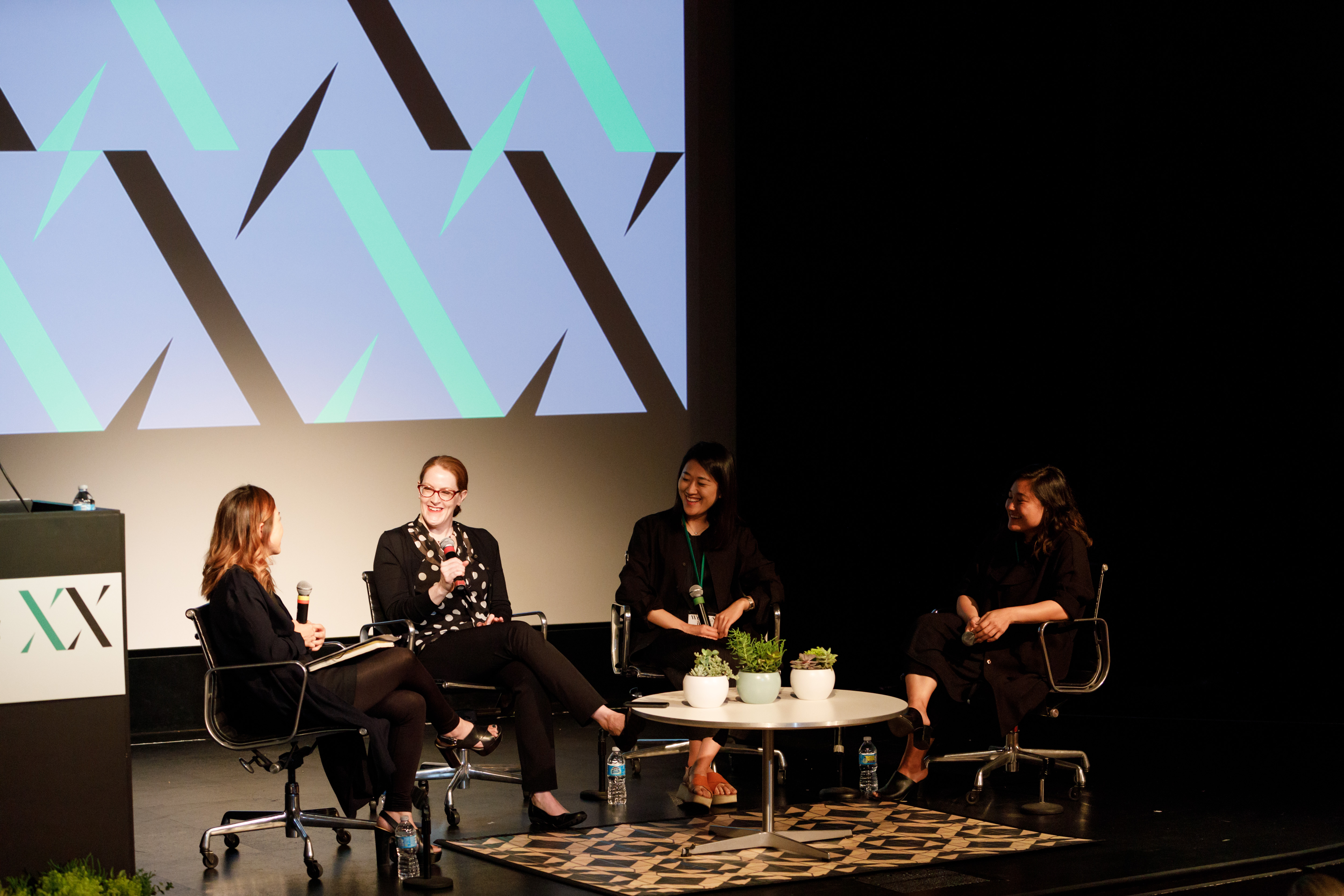 For designers, who often create structure out of chaos, it is critical to establish a common language across a variety of disciplines and have a strong point of view. Leaders, many who work in male dominated fields, reinforced those points at ArtCenter's Women in Industrial Design Forum on July 15. Women designers from Nike, Airbnb, Sony, Mattel, MIT Media Lab, Google and Snap gathered on campus to share wisdom from the trenches.
"Being opinionated and having a point of view is even more important when working in a male dominated industry because you'll get a lot of no's and people talking over you but you have to push past that and not be personally offended by those obstacles," said Angie Park (BS 2011), who is a hybrid UX researcher at Sony in San Francisco.
When asked "Why do you keep redesigning our product?" by a colleague, Sara Ortloff Khoury (MFA 1992), user experience design director at Google, responded by explaining the iterative process, reflecting a core principle of design thinking particularly relevant to the tech industry: everything can be upgraded into a new and improved product, app, service or device. Khoury lead the design on Google's recently launched Hire, a new service that helps businesses more effectively manage their internal recruiting process.
"It's a life long endeavor," said Angie Park. "A large part of what we do is educate coworkers and clients, champion the idea of design thinking."
"Engineers think of you as an afterthought," said Kristina Marrero (BS 2014), colors, materials and finish (CMF) designer at Snap Inc., who makes it a point of educating more people about her field to make products more successful.
While it's easy to obsess over whether or not you play up your femininity or play it down and what in the room is working against you, the consensus among attendees was that working in a male dominated field, it is important to find a support system, be strong, fight for your point of view and be yourself.
"Don't be afraid to speak loudly," said Jenn Kuca (BS 2012), senior strategic designer, BCG Digital Ventures. "When people are talking over you, speak louder."
When asked if there is a way to approach the design research process that is enhanced by being a woman, panelists agreed women are better collaborators, more empathetic especially in awkward situations, and more detail oriented in their observations, generally speaking, than men.
Some projects are male driven and it's obvious based on the output, said Angie Park. "You can't design well if the team is not diversified, it can't be only female driven either." Diversity among voices represented by gender and ethnicity, they agreed, is most important.
"I was inspired to pursue a leadership position at Nike when I realized there were no women in senior positions at the organization," said Marni Gerber (BS 1985), ArtCenter faculty and senior design director at Nike. She created a group within the footwear leader to focus on constructive changes to the corporate culture and be a safe place for women with the purpose of helping senior leaders become more supportive of women. She urged audience members to have many mentors, not just one.
Khoury said while it's hard to bear witness to gender bias, we must stop thinking about the fairness issue because effort doesn't know gender. "At the end of the day, I'm judged by my effort." She encouraged the audience to read Angela Lee Duckworth's writing about the power of passion and perseverance.
Panelists encouraged women to approach job qualifications as wish lists not check lists because, they said research shows women tend to only seek jobs they're 100 percent prepared for and men pursue positions they're only 60 percent prepared for.
Mariana Prieto (BS 2012), a design innovation consultant, summed up the day by saying you're never too young or too old to be a mentor or a mentee, there's always someone on either side to learn from and when you help others, you learn a ton. Follow your intuition she urged, because once you take the first step the next will follow.