Julie Deamer will be on campus Tuesday to discuss how artists meaningfully contribute to communities and cultures in a global context as well as how they create civic artwork as sites for public discourse and expression.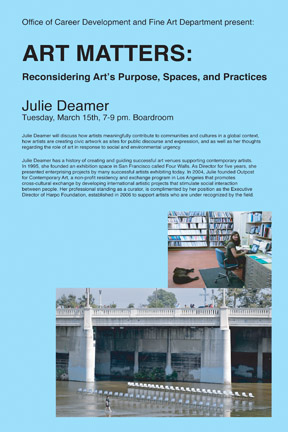 She'll also share her thoughts on the role of art in response to social and environmental urgency.
Deamer has a history of creating and guiding successful art venues supporting contemporary artists. In 1995, she founded an exhibition space in San Francisco called Four Walls. Serving as director for five years, she presented enterprising projects by many successful artists exhibiting today. In 2004, Julie founded Outpost for Contemporary Art, a nonprofit residency and exchange program in Los Angeles that promotes cross-cultural exchange by developing international artistic projects that stimulate social interaction between people. She is also executive director of Harpo Foundation, established in 2006 to support under-recognized artists.
The event is free and open to the public.
Art Center's Office of Career Development and Fine Art Department present:
ART MATTERS: Reconsidering Art's Purpose, Spaces and Practices
Julie Deamer
Tuesday, March 15, 7-9 p.m.
Hillside Campus Boardroom