A major component to the mission of Art Center's Designmatters Department, which invites students from all disciplines to address humanitarian and social challenges, is to lead "an ongoing exploration of design as a positive force in society."
Part of this exploration takes place in the field—Designmatters has organized dozens of projects, including the recent Safe Agua Chile, in which students developed systems for storing, transporting and conserving water in impoverished Chilean neighborhoods—but another part happens right here on campus.
Special events give students the chance to meet provocative and inspirational individuals who are using design to make a real difference.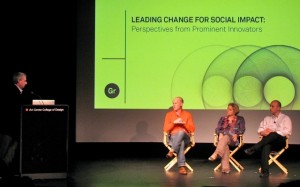 Two recent Designmatters-sponsored events at Hillside Campus did just that.
On January 28, Designmatters and Acting Chief Academic Officer Nik Hafermaas presented "Leading Change for Social Impact: Perspectives from Prominent Innovators," a forum moderated by Adlai Wertman, professor at the USC Marshall School of Business.
The panelists for the evening event in the Ahmanson Auditorium included Mariana Amatullo, vice president and director of Designmatters, who highlighted several recent departmental projects; Rhys Newman, head of strategic projects at Nokia Design, who explained how he uses his company's extraordinary global reach to push environmental initiatives; and Jonathan Greenblatt, founder of Ethos Water and the open-source All for Good volunteering website, who discussed the business models behind his ventures and the power of the Web to effect social change.
For a detailed summary of the event, see student Amelia Stier's recap on the ACCD AIGA website.
As mentioned earlier this week, Project H's Design Revolution Roadshow—a traveling exhibition of nearly 40 products that offer smart solutions to social issues, all displayed inside a 1972 Airstream trailer—stopped by Art Center on February 8 at the invitation of Designmatters.
As part of the Roadshow, Emily Pilloton, founder of Project H, an organization created to "connect the power of design to the people who need it most," and author of Design Revolution: 100 Products That Empower People, addressed a group of students, faculty and staff in the Faculty Dining Room.
She began by explaining that her "Design Revolution" was rebelling against product design whose purpose is to feed an "unstoppable" consumer-driven and luxury market. "We cater to people who can afford design as a privilege," she said of the current norm. "We don't look at design as a right."
She then presented ways in which Project H has been making positive differences in communities around the world and spoke about some of the socially-conscious products featured both in her book and in the Airstream trailer.
Later in the evening, Designmatters, Art Center's Alumni Relations Office and GOOD Magazine threw a bash to celebrate the Roadshow's visit.
"There is a weighty and timely responsibility that comes with aiming to educate and inspire the designers of today and tomorrow," said Elisa Ruffino, producer and senior associate director of the Designmatters Department, as she introduced Pilloton and GOOD co-founder Casey Caplowe to the crowd. "And we are hearing from our students, more loudly every day, that they identify themselves as designers who are interested in leveraging design to create a better world."