Karen Hofmann, recently appointed Department Chair of Product Design, sat down with us to discuss the future of the department.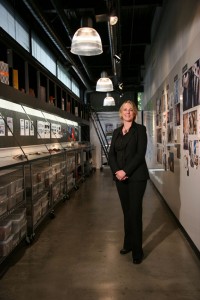 As an alumna and educator, Hofmann has developed innovative curriculum—such as DesignStorms,  immersive collaborations of students, faculty and professionals from sponsoring companies—and defined new strategies benefiting the entire College. She has served as director of the Color, Materials and Trends Exploration Laboratory (CMTEL) at Hillside Campus since 2006, and has been on the Art Center faculty since 2001. She was recently named one of the Most Admired Educators of 2010 by DesignIntelligence, published by the Design Futures Council.
Prior to joining Art Center's faculty, Hofmann held leadership positions at o2studio and Johnson Controls. She graduated from Art Center in 1997 with a bachelor's degree in product design and earned a bachelor's degree in psychology from California State University, Northridge. She served as Acting Chair of the department from 2008 to 2009.
Dotted Line: What do you bring to the Product Design Department as Chair?
Karen Hofmann: I am deeply committed to upholding the great legacy and strengths of the department. I feel a great sense of responsibility to prepare young designers as creative citizens of the 21st century, and will evolve the program to best prepare our students for meaningful careers that positively impact the world.
DL: What does the future hold for product design in general?
KH: It has gone beyond just producing objects. Today product design is about applying the design process to any number of problems in the world, from social impact challenges to redesigning organizations. The term "design thinking" is very in vogue right now—product designers have led these collaborative and iterative processes for years.  Product designers are responsible for bringing non-designers along in the creative process as they identify and solve problems.
DL: How has the role of product designers changed?
KH: The scope of the product designer has evolved tremendously. We pride ourselves on our process: understanding human need, solving problems and creating innovative ideas, artifacts and systems. Today, we are no longer just participants—we are becoming leaders. There is a real opportunity for us to contribute to the world in big ways. The challenge for us at Art Center, then, is discovering how to teach everything our students need to learn in just eight terms.
DL: What type of student is the Product Design Department looking for?
KH: We're looking for creative citizens and leaders. Students who are interested in not just creating beautiful artifacts, but in becoming agents of change. Our students look at how they can impact the world in a larger sense, rather than only excel in a particular set of skills.
We see our students as future leaders, not just designers. To that end, we infuse our students with the tools needed to excel in the corporate world or become entrepreneurs. We also strongly encourage and support their involvement with student clubs on campus. EcoCouncil, Mustard, Mint—these student groups are led by product design students.
DL: Where do you see the Product Design Department going in the future?
KH: We're ready to reinvent what we do. Twenty years ago, there wasn't much competition coming from other product design schools—Art Center was the "it" school. Other schools have caught up by launching sponsored projects and transdisciplinary studios as part of their curriculum—things that we have been doing at Art Center for years. As a result, there is more competition for the best students.   It's time for us to invent new models of learning, and enable new opportunities for students to launch their careers.
Along with my thinking, our faculty and alumni have great ideas about how we can evolve. We will continue to focus on core design process skills and integrating sustainable principles into the curriculum, but will take a look at developing specialties such as design strategy, apparel design and interaction design. We want to explore relationships with other educational institutions, such as business and technology schools, and see how we can uniquely work together. We want to give our students both the creative tools and business skills they need to become entrepreneurs or to become successful leaders in a corporate setting.
Learn more about Art Center's Product Design Department and check out some student work in our online gallery.