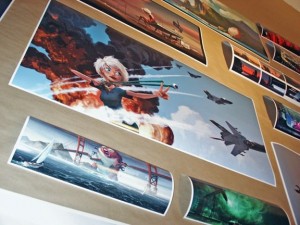 Don't miss tonight's opening of DreamWorlds in the Williamson Gallery. The exhibit, a behind-the-scenes look at the artistry and imagination of animated filmmaking at DreamWorks Animation, opens tonight with a multimedia presentation, panel discussion and reception. The presentation and panel will be held at Ahmanson Auditorium at 7 pm, followed by a reception in the Williamson Gallery at 8 pm.
Drawing from popular DreamWorks Animation films such as Shrek, Kung Fu Panda, Madagascar, Monsters vs. Aliens, Bee Movie, Prince of Egypt and the soon-to-be-released How To Train Your Dragon (scheduled for theatrical release March 26), the more than 300 objects in the exhibition include original and digital designs and paintings, movie posters, character maquettes, miniature sets, an artist's workstation re-creation and other creative stages of the complex filmmaking process.
Film Department Chair Ross LaManna will moderate tonight's panel discussion, which will revolve around the connection between art, illustration, story and animation. Panelists include:
Gail Currey: PDI/DreamWorks Animation Studio Head
Kathy Altieri: Art Center Illustration alumna; DreamWorks Animation production designer for How to Train Your Dragon; first artist hired by DreamWorks
Kendal Cronkhite: Art Center Illustration alumna; DreamWorks Animation production designer whose credits include the Madagascar films
Sam Michlap: Former guest instructor at Art Center; DreamWorks Animation production designer and visual development artist; co-curator of DreamWorlds
DreamWorlds runs through May 9. The Williamson Gallery is open Tuesday through Sunday from 12 noon to 5 p.m. with extended hours on Friday evenings to 9 p.m.
(Image is from the Williamson Gallery's Facebook page)