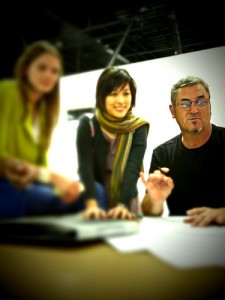 Following the tragic death of Art Center alumnus and faculty member Norm Schureman, the College has established the Norman Schureman Memorial Scholarship. The scholarship will be available to incoming Product Design students.
"Norm inspired hundreds of students—not only those that he taught, but those considering whether or not they even had the gumption to apply to Art Center," President Lorne Buchman said. "One of the ways the College can be true to his memory is to make sure young creatives have access to pursue a first-rate design education."
Schureman graduated from Art Center in 1985 with a Bachelor of Science degree in Product Design. He began teaching at the College in 1992.
"Norm loved being a teacher and truly believed an Art Center education was something special," Schureman's widow, Fati, said. "Our family is humbled that the College has come together to honor Norm with a scholarship in his name."
Schureman's father Bob is an Art Center faculty member. "Art Center has been such a big part of my life, and the life of my son," he said. "I've been overwhelmed by the amount of support the Art Center community has given our family."
Individuals interested in making donations to the Scholarship can donate online or contact Senior Development Officer Palencia Turner at 626.396.2366.
Karen Hofmann, Chair of Product Design at Art Center College of Design, said, "Norm was a friend and mentor and a source of inspiration both inside and outside of the classroom. He made students feel that they could change the world and this scholarship is a way to ensure his legacy continues."
In addition to the Norman Schureman Memorial Scholarship, the family will open a trust fund for Schureman's two young sons. For questions about contributing to the trust, contact Director of Public Relations and Communications Jered Gold at 626.396.2251.