Beloved Art Center alumnus and faculty member Norman Schureman will be posthumously awarded an honorary degree at Saturday's Graduation ceremony.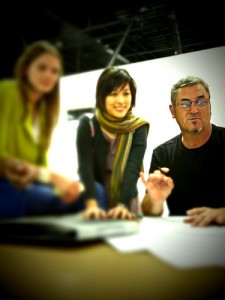 Schureman earned his degree in Industrial Design from Art Center in 1985, going on to teach at the College for more than 20 years until his tragic death in March. He was a beloved instructor, colleague, mentor and friend to hundreds of Art Center students, faculty, staff, alumni and friends.
"The presentation of an honorary doctorate is a fitting tribute to Norm for his immeasurable contributions to the College," said College President Lorne Buchman. Giving the address in Schureman's honor will be alumnus Joshua Nakaya PROD '09 and C. Martin Smith, industrial design chair and professor at the Hong Kong Polytechnic University and former Chair of product design at Art Center.
Schureman's relationship with Art Center began almost 40 years ago when his father, Bob, taught Industrial Design classes and a young Norm would tag along to campus. Years later, Norm returned to Art Center as a student, graduating in 1985 with a bachelor's degree in Product Design. Schureman began teaching at Art Center in 1992, first at the College's European campus and then in Pasadena.
Following his death, the College established the Norman Schureman Memorial Scholarship. The scholarship will be available to incoming Product Design students.
Karen Hofmann, Chair of Product Design at Art Center College of Design, said, "Norm was a friend and mentor and a source of inspiration both inside and outside of the classroom. He made students feel that they could change the world and this scholarship is a way to ensure his legacy continues."
Individuals interested in making donations to the Scholarship can donate online or contact Senior Development Officer Palencia Turner at 626.396.2366.

Tags: Graduation, Norman Schureman, Norman Schureman Memorial Scholarship