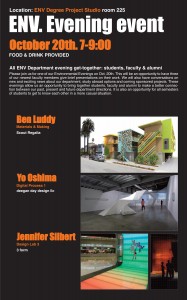 Tonight our Environmental Design Department is hosting an event for all Environmental Design students, faculty and alumni at Hillside Campus.
Three of the department's newest faculty members, Ben Luddy, Yo Oshima and Jennifer Silbert, will be on hand to introduce themselves and provide presentations on their work.
Click on the flyer for more information.