Each term, we spotlight a student who has achieved something noteworthy with their education from Art Center at Night, the College's continuing studies program. We recently sat down with Laura Evans, a legal assistant for Girardi|Keese, whose documentary film No Such Thing as Color has been making the festival rounds.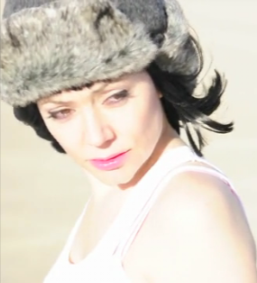 Dotted Line: Tell us a little about yourself.
Laura Evans: During the day, I work for a law firm in downtown Los Angeles. At night, my husband and I play in a rock band called the Origami Llamas. I play drums and keyboards, sing, shoot our music videos and share website duties.
Dotted Line: You were initially interested in Art Center at Night for a course in Flash animation?
Evans: Yes, but while looking through the catalog, I saw a listing for Introductory to Documentary Filmmaking with Gabor Kalman. I had long wanted to make a documentary about my husband's color blindness, and how it influenced him as a musician, and the class seemed like a great opportunity to actually get it made, so I signed up.
Dotted Line: You decided to shoot the film in a pretty unconventional way.
Evans: Right, on the first day of class, everybody shared their project concepts. My classmates liked my idea, but they were a bit nervous when I announced I was going to shoot it entirely on a Flip camera. But I stuck to my decision, and it ended up being the right one. The footage from the Flip not only looked great, but the camera's small size meant I could take it anywhere.
Dotted Line: Tell us a little about the film.
Evans: I interviewed my husband for four hours straight, and learned a lot about him that I never knew before. One of the most interesting stylistic choices I made was to use Final Cut Pro to extract colors my husband can't see. For certain sequences, the audience has an opportunity to see reality through his eyes.
Dotted Line: What was the class like?
Evans: The structure of the course really helped me finish the film. It gave me deadlines I had to meet every week. Gabor was a great instructor. He was knowledgeable, encouraging and asked questions that made me consider options I never would have considered otherwise. My classmates were great too. We still meet every couple of weeks and watch documentaries together.
Dotted Line: It didn't take long for your film to hit the festivals.
Evans: I finished it last April and it screened at its first festival less than a month later. So far the film has screened at five festivals, including festivals in Temecula, Orlando and Ojai.
Dotted Line: I can't imagine that's the norm. Were you surprised?
Evans: Everything that has happened is so hard to believe. I never imagined I'd be considered a filmmaker, but then I'm introduced at festivals as "filmmaker Laura Evans."
Dotted Line: You've got the title now.
Evans: Yes, that sounds pretty official.
Want to read more Art Center at Night student success stories? They're all right here. And don't forget to sign up for Art Center at Night classes—registration opens today.

Tags: Art Center at Night, Laura Evans