The BlackBerry Empathy concept phone has received a great deal of online buzz this week. Not only is the design striking, but the idea behind the device is quite interesting—it's designed with an interface that can interpret and respond to the user's emotions.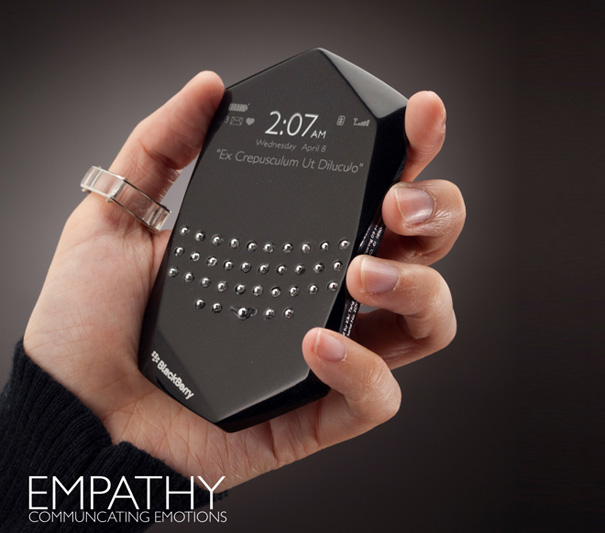 The concept was created by two Art Center Product Design students, Kiki Tang and Daniel Yoon (they've since graduated), for a RIM BlackBerry sponsored project at the College.
The user wears a ring that collects emotional data and graphically displays the user's emotional state to their personal connections.
According to Yoon: "Each contact has an avatar that is encompassed by two colored rings.
The inner colored ring shows the contact's previous emotional state, and the outer ring represents the contact's current emotional state. It is important to show the shift in emotions in order to see how an event has affected that contact."
The phone also features an "Emotional Health Chart," monitoring the user's emotions over time, and finds patterns in behavior and emotions (for instance, a person's mood may repeatedly plummet after phone calls from a certain individual).
So what do you think? Revolutionary … or just plain creepy?
(Thanks to Yanko Design for breaking the story. More images on their site.)