"I used to be purely academic, which was wonderful in many ways," says Karen Bates, who went through Princeton's Ph.D. program in architecture.
"But I always had that itch to do something creative. Instead of just studying the artists, I wanted to actually make something."
Now she's teaching others how to do just that in her course, Soft Goods Accessory Design and Construction, and a follow-up advanced course, both of which are being offered this spring at Art Center at Night.
Bates describes her background as eclectic, which might be the understatement of the year. In addition to her studies at Princeton, the Southern California native spent three years studying in Paris at the University of Paris, La Sorbonne and translating for UNESCO; and over a decade in New York, studying at Parsons New School of Design, the Fashion Institute of Technology, and running a photography studio. In her spare time, she managed to sell mixed media artworks and soft goods and accessory designs to both individual and corporate clients.
Now she's back in the Los Angeles region and showing students the ins and outs of soft goods and accessories in Art Center's continuing studies program. We caught up with Karen to get the scoop on her current and upcoming courses.
Dotted Line: Tell us a little about Soft Goods Accessory Design and Construction.
Karen Bates: This is the first class I've taught at Art Center at Night, and in the spring, I'll be teaching an advanced version of the class. In the current fall course, we're making handbags. We go through all the intricate details of pattern drafting, and then move on to construction. The students are enthusiastic about the work, even through the process can be challenging at times.  Let's just say I give them their money's worth in terms of educational value.
Dotted Line: So this isn't all sketching on paper? You actually make the bags?
Bates: Absolutely. Students walk out of the course with two finished products. Drawing has its limitations—sketching is important in the conceptual stages, of course, but it's during the construction stages when you really learn something. Plus, afterwards you have something you can bring home to mom and say, "Look what I made!" Or, if you're an entrepreneur, you could use the bag as a prototype, take it to a factory and ask, "Can you manufacture this? How much would it cost?" From a business standpoint, that can save you a lot of start-up capital, because you'll have already worked out a lot of those construction kinks.
Dotted Line: Having a completed product must be satisfying for the students.
Bates: Very satisfying. But making it can be frustrating. Sometimes there's a lot of teeth gnashing when you're trying to sew something and it just won't cooperate. But we all get through it together, and then, during their final product presentations, the students can share the processes and methods they used to complete their particular project.  It's a great opportunity to be able to recount how they triumphed over the challenges of construction.
Dotted Line: The skills you teach extend beyond handbags, right?
Karen Bates: Definitely. Soft goods is not just about fashion. You could create small leather goods—anything from a wallet, to an eyeglass case, to an iPod cuff to wear while you're jogging. If you're interested in the plush toy industry, which is huge, you could use the exact same skills to create a line of toys. The pet industry is also really booming right now. There are some very established, cutting-edge designers making dog and cat beds at the moment. Fine artists could use these skills as well.
There's a lot of mixed media work, what some might call "soft sculpture," that you couldn't create if you didn't have these skills. And don't forget the entertainment industry. Wardrobe departments needs shoes, bags and accessories as part of the costuming.
Dotted Line: What kind of students signed up for the course?
Bates: I have eight students right now. Some are high-fashion design-oriented. Some are more interested in the sports industry. Others are very conceptual and working on projects that have more of a fine-art concept behind them. One student is working on high-end recycling bags, kind of a play on luxury and "upcycling," which is a concept we discuss frequently in class.
I have one amazing student who graduated from Art Center but who never sat down at a sewing machine in his life. His sketches are gorgeous, and he's planning a whole series of bags. He's skyrocketing ahead. I have another one who's studying theology and yet another who works in the audio-visual field. And I have some students who just want to make a cool handbag to take home.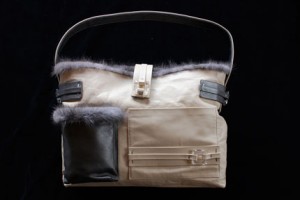 Dotted Line: That's a great bonus.
Bates: It is, and you'll know the construction process inside and out. You'd be amazed by what you'd find if you sliced a handbag in half. You'd see all sorts of stuff you didn't realize you were carrying around with you: stay papers, stabilizers, bonded leather, ropes and all sorts of piping.
After taking this class, you'll also know where to purchase all these materials, because I provide my students with very meticulous notes and resource lists. And your bag will not look handmade. It'll look like something you'd buy in a boutique. That's really important.
Interested in learning more? Registration is now open for Art Center at Night's Spring Term. Classes begin January 18.

Tags: Art Center at Night, Karen Bates