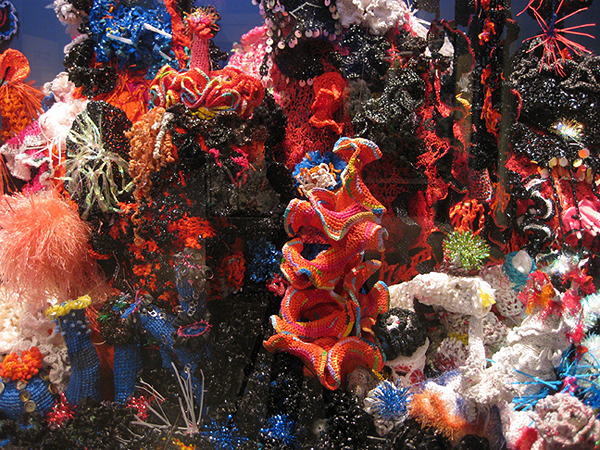 The highly anticipated exhibit, HYPERBOLIC: Reefs, Rubbish and Reason, opens today at Art Center's Williamson Gallery.
HYPERBOLIC uses crochet to create sculptural form and mathematical complexity, forming a crochet coral reef. The extraordinary structures are tantalizingly beautiful, yet provocatively challenging in their commentary about the current health of Earth's oceans. The exhibition is the creation of twin sisters Margaret and Christine Wertheim, directors of the Institute for Figuring, a nonprofit organization pioneering new methods for educating the public about scientific and environmental issues.
An opening reception will be held Wednesday, June 22. A panel discussion will be held featuring Jerry Schubel, president and CEO of the Aquarium of the Pacific and Margaret Wertheim, HYPERBOLIC co-curator, science writer and author. The panel and reception are free and open to the public. RSVP to events@artcenter.edu.
Check out this great article on the exhibit in today's Pasadena Star-News: The artful science of crochet
HYPERBOLIC: Reefs, Rubbish and Reason Opening Reception
Wednesday, June 22, 7 p.m. (panel), 8 p.m. (reception)
Williamson Gallery
Art Center College of Design Hillside Campus