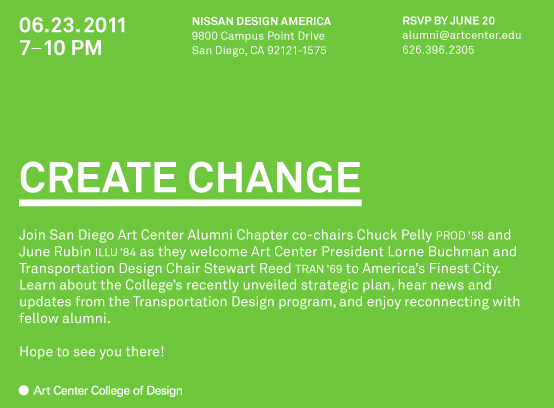 Art Center's Office of Alumni Relations hits the road today for a trip to San Diego, where they're hosting an alumni event tonight at Nissan Design America.
San Diego alumni chapter co-chairs Chuck Pelly PROD '58 and June Rubin ILLU '84 will welcome Art Center President Lorne Buchman and Transportation Design Chair Stewart Reed TRAN '69 to America's Finest City to meet with alums and share the latest about the College's strategic plan and Transportation Design program.
San Diego alums, see you there!

Tags: Alumni, Alumni Events, Chuck Pelly, June Rubin, San Diego, Stewart Reed