Tomorrow, join the Graphic Design Department as they present 3×3: Trends in Packaging and Interaction.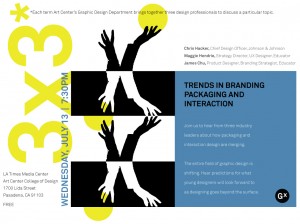 Hear from three industry leaders as they discuss how packaging and interaction design are merging, and the entire field of graphic design is shifting. They'll share their predictions for what to look forward to as design goes beyond the surface.
The speakers are:
Chris Hacker, Chief Design Officer, Johnson & Johnson
Maggie Hendrie, Strategy Director, UX Designer, Educator
James Chu, Product Designer, Branding Strategist, Educator
Don't miss this great event!
3×3: Trends in Packaging and Interaction
Wednesday, July 13, 7:30 p.m.
Los Angeles Times Media Center
Hillside Campus