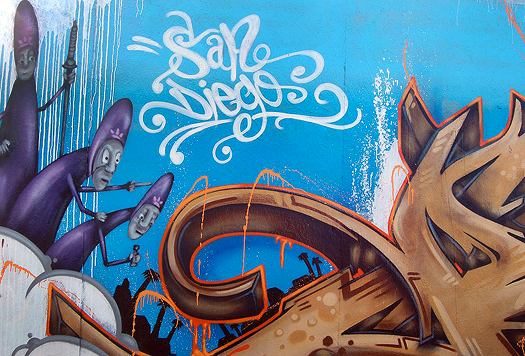 Art Center, Armory Center for the Arts, Flintridge Center, Learning Works Charter School and more than two dozen other community-based organizations have collaborated to develop the installation and creative programming of a "Teen Art Park" that fosters safe, artistic expression for at-risk youth in Pasadena.
Large scale, interactive installations designed under the guidance of Art Center's Designmatters and Environmental Design Departments will be unveiled at a fun, open house-style community event today at 4 p.m. Educators, youth advocates, artists, community members and teens are encouraged to attend the event, which in addition to the unveiling of the Teen Art Park structures, will have graffiti battles, a live DJ, pizza, art projects and more.
Beyond a safe haven for at-risk youth to practice their craft, creative programming developed as part of the Teen Art Park seeks to provide workshops in a variety of visual, applied and performing arts; develop skills that easily transfer into the classroom and the workplace; deepen connections with community resources; and serve as a public space for performances and exhibits. Detailed information about the Teen Art Park collaboration, installation concepts and creative programming can be found on the Designmatters website.
"Teen Art Park has been a deeply transformative project for all of us at Art Center—an opportunity to engage with our partners, Flintridge Center, the Armory and Learning Works in a bold vision that sets forth new creative spaces for learning and community," says Designmatters Vice President Mariana Amatullo.
"I cannot thank Art Center enough for envisioning what teens might want when searching for safe places to hang out, be with friends and express themselves as individuals," says Mikala Rahn, executive director of Learning Works Charter School. "With community involvement and support, Teen Art Park would transform Pasadena into a better, youth-friendly city."
The Teen Art Park unveiling will take place at Art Center's Hillside Campus today.

Tags: Student Work, Students, Teen Art Park