Don't miss Friday's opening of Remix, featuring work by Saturday High and Art Center at Night faculty member Graham Moore.
A remix is an alternative version of a recorded song made from an original version—but the term also is used for any alterations of media.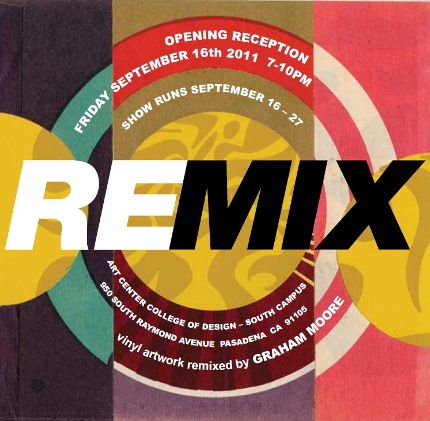 A remix in literature, for example, is an alternative version of a text. William Burroughs used the cut-up technique to remix language in the '60s.
Using glue, scissors and collage-style techniques, Moore's body of work embodies the love for the technique of collage and vinyl cover art. The rhythm, movement, and the vibrant use of color, shape, texture, imagery and typography serves as a tribute to graphic designers and artists from a bygone era.
A portion of all sales will support scholarships for Art Center's Public Programs.
The exhibit, which is on display through Sept. 27, is sponsored by Archetype Press and Archetype Press Director and professor Gloria Kondrup.
For more information, email gloria.kondrup@artcenter.edu.
Remix: Work by Graham Moore
Opening Reception: Friday, Sept. 16, 7-10 p.m.
Art Center South Campus