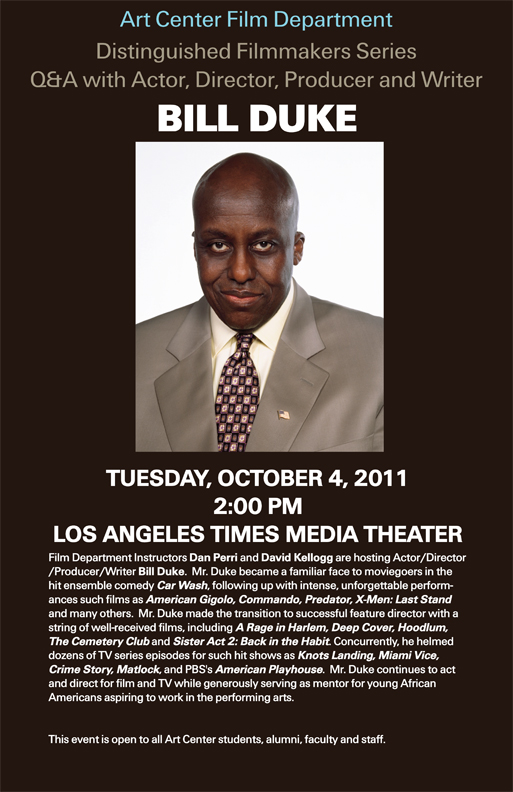 NOTE: THIS EVENT HAS BEEN POSTPONED.
Film Department instructors Dan Perri and David Kellogg will host featuring actor, director, producer and writer Bill Duke at the first Distinguished Filmmakers Series event of the term on Tuesday, Oct. 4.
Duke became a familiar face to moviegoers in the hit comedy Car Wash, following up with intense, unforgettable performances in films such as American Gigolo, Commando, Predator, X-Men: Last Stand and many more. Duke made the transition to successful feature director with a string of well-received films, including A Rage in Harlem, Deep Cover, Hoodlum, The Cemetery Club and Sister Act 2: Back in the Habit.
Concurrently, Perri helmed dozens of TV series episodes for hit shows including Knots Landing, Miami Vice, Crime Story, Matlock, and PBS's American Playhouse. Duke continues to act and direct for film and TV while generously serving as mentor for young African Americans aspiring to work in the performing arts.
This event is open to all Art Center students, alumni, faculty and staff.
Distinguished Filmmakers Series: Bill Duke
Tuesday, Oct. 4, 2 p.m.
L.A. Times Media Center

Tags: Bill Duke, Distinguished Filmmakers Series