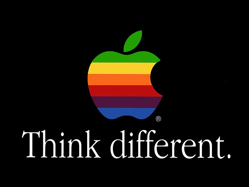 The unaired version of the very first "Think Different" television ad below is unique in that it's not the version narrated by actor Richard Dreyfuss that we all saw in 1997.
Rather it's narrated by Steve Jobs, the co-founder of Apple and the visionary pioneer behind the company's now ubiquitious products, who passed away yesterday.
Art Center alumna Jessica Schulman Edelstein ADVT 91, then the lead art director on the Apple Computer account at Chiat Day, established the look and feel of the highly successful "Think Different" campaign, which featured historical figures–physicist Albert Einstein, civil rights pioneer Martin Luther King Jr. and "Sesame Street" creator Jim Henson to name a few–who changed the world through their out-of-the-box thinking.
Rest in Peace, Mr. Jobs. Your vision touched as all and you left the world a better place.