This Sunday Art Center presents Car Classic, the College's 11th annual celebration of the best in automotive design. The event will feature an incredible array of more than 100 rare automobiles and innovative vehicles on display in Art Center's panoramic Sculpture Garden.
The theme for this year's event is "California Design: Influencing Change," meaning that in addition to enjoying all the classic cars on display—including a 1968 Peter Brock Triumph TR 250 K; a 1942 Alfa Romeo 6C 2500 SS Berlinetta Aero Dynamica; and a 1932 Doane Spencer Hot Rod—visitors to Car Classic will learn about the continuing global influence that Southern California has on transportation design.
Why Southern California? As home to more than 20 advanced automotive design studios, as well as forward-thinking companies that are leading the way in new mobility and alternative energy, the region continues to shape the how, what and where of transportation on a large scale.
Also leading the way is Art Center's curriculum, which is expanding to further impact the evolution of the automotive industry and the broader field of transportation with a new Graduate Transportation Design program launching in Fall 2012. To coincide with this evolutionary growth, attendees to this year's Car Classic will be treated to innovative designs for cars, bikes, planes, boats, materials and design tools influenced by Southern California culture.
"Car Classic is an important event for our students because it gives them a chance to be inspired by truly classic cars as well as by new concepts that are redefining the transportation design industry," said Stewart Reed, chair of Art Center's Transportation Design Department. "This in turn gives them an opportunity to consider how their designs will shape the future."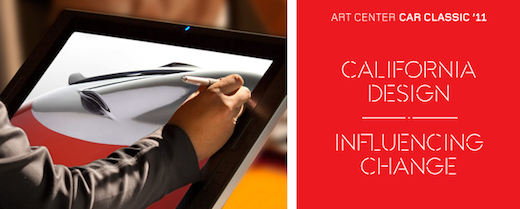 Special guests at this weekend's event include a number of Art Center alumni, including: Peter Brock PROD '56, founder of Brock Racing Enterprises and designer of the Cobra Daytona Coupe; Chip Foose TRAN '90, president and CEO of Foose Design and member of the Hot Rod Hall of Fame; Chuck Pelly PROD '58, founder of The Design Academy Inc. and BMW DesignworksUSA; and Freeman Thomas TRAN '83, director of strategic design for Ford Motor Company.
Also present at the event will be alumnus Miguel Galluzzi TRAN '86, the designer of the legendary Ducati Monster motorcycle and Vice President of Design at Piaggio. As an Art Center student, Galluzi clearly remembers lessons that faculty members like Ted Youngkin, Joe Farrar and Harry Bradley taught him. "After all these years, their lessons still come back to me," said Galluzi, who often defers to their words of wisdom when faced with a design dilemma. "I'll think, wow, those guys were really sharp, and it'll give me that extra boost of energy I need to push ahead."
Other guests to the event include: Bruce Canepa, Porsche racer and owner of Canepa Design; Dave Kunz, automotive reporter for KABC-TV Los Angeles; Barry Meguiar, president and CEO, Meguiar's Inc. and host of SPEED Channel's Car Crazy; Bruce Meyer, car collector and former chairman of the Petersen Automotive Museum; and Bruce Meyers, father of the modern dune buggy.
Event highlights include: the unveiling of ICON 4×4's newest concept vehicle; panels on "California Vehicle Design Studios," "California Hot Rods," "California Beach Culture" and "California Motor Sports;" a tribute to Strother MacMinn; an Awards ceremony hosted by Barry Meguiar; and exhibitions of student work and campus and studio classroom tours.
"Beyond the amazing designs and vehicles on display, Car Classic is an opportunity for Art Center to showcase all the incredible work happening throughout the College," said Reed, referring to the student work on display this year on top of the regularly featured Transportation Design student work and Student Gallery. "This year we're highlighting student work from a number of our other disciplines. Our Photography and Imaging students will be conducting a live photo shoot, work by our Product Design students will be on display in the CMTEL lab, and we'll also have a display of work by our Environmental Design students that just returned from being exhibited in Milan."
Car Classic '11 tickets are $60 at the door or $50 when purchased online before noon on Friday. More information can be found online at artcenter.edu/carclassic.