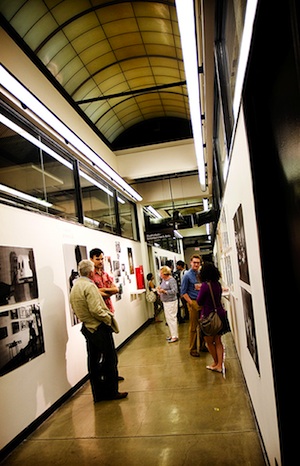 The creative energy around campus is kicking into high gear as the College prepares for its series of Summer graduation events.
Thursday, August 16
If you're lucky enough to be on the invite list for Graduation Show Preview, you'll get a sneak peak at the work of the next generation of artists and designers. Held from 6:00 to 9:30 p.m. at Hillside Campus, the preview gives potential employers, alumni, donors and industry professionals an opportunity to preview the Graduation Show and meet our graduating students.
Immediately following the preview, all guests are invited to a reception hosted by Alumni Relations to welcome our graduating students into the alumni family.
Saturday, August 18
Join us at Hillside Campus from 5:00 to 7:00 p.m. as we celebrate the accomplishments of our newest graduating class and present the Art Center Student Leadership Award to Product Design student Jenn Kuca.
We will also be presenting the Great Teacher Award to: Product Design instructor Pascual Wawoe (New Teacher); Environmental Design and Humanities and Design Sciences instructors Penny Herscovitch and Dan Gottlieb (Part-Time Faculty); and Illustration and Entertainment Design instructor Will Weston (Full-Time Faculty), who will also deliver the graduating class commencement address.
Can't join us for the graduation ceremony? Watch our live online webcast.
After the ceremony, Graduation Show opens to the public from 7:00 to 10:00 p.m. so everyone can enjoy the work of our newest Art Center graduates.
Let the celebration of our creative community begin!

Tags: Dan Gottlieb, Graduation, Graduation Show, Graduation Show Preview, Great Teacher Awards, Jenn Kuca, Pascual Wawoe, Penny Herscovitch, Student Leadership Award, Will Weston