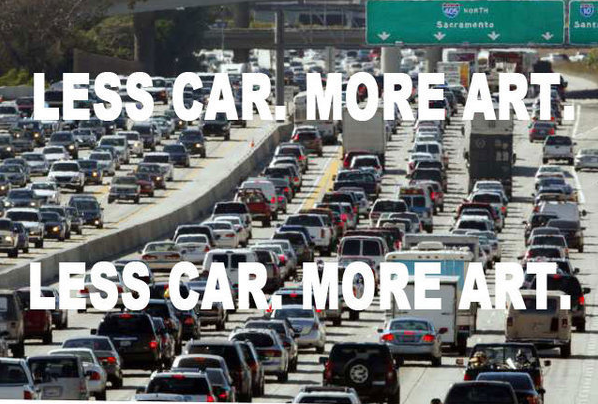 With the second coming of Carmageddon set for Saturday and Sunday, a grass-roots effort has been timed to offer Angelenos a reprieve from the freeways.
More than 100 artists, arts organizations, advocacy groups and community partners have teamed up to launch Artmageddon, a two-day event featuring art and performance through 16 neighborhoods in Los Angeles County.
With the tagline "Less Car. More Art," the group recently launched Artmageddonla.com, an online database that allows users to search thousands of nearby events and offers directions by foot, bike and train.
The events — which include visual, performing and media arts — aren't necessarily themed for Carmageddon 2, but some galleries and museums will extend hours or host special receptions.
So far, nearly 20 events will be spread out across
Pasadena
this weekend. Here are a few highlights from different corners of arts and culture.
The Pasadena Museum of California Art will showcase "Art Edgar Payne: The Scenic Journey," the plein-air painter's first major showing in 40 years.
"Gajin Fujita: Ukiyo-e in Contemporary Painting" at the Pacific Asia Museum features the Japanese American artist's work, which combines Japanese ukiyo-e art with contemporary American street and Pop art.
"Pacific Electric Railway, Then & Now" at the Pasadena Museum of History travels the Pacific Electric Railway's 1,100 miles of track through images and artifacts.
As always, a variety of student art representing different disciplines is on exhibit in the Art Center Hillside campus Student Gallery. The space features exemplary work by undergraduate and graduate students selected by Department Chairs each term.
ALSO:
Art Center gears up for Car Classic '12