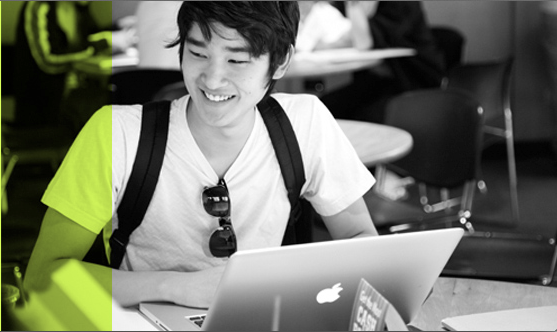 This week, Art Center officially welcomes the Spring 2013 incoming class with a week of orientation activities organized by the College's Center for the Student Experience.
"New student orientation sets the stage for the success of our students during their time at Art Center," said Dean of Students Jeffrey Hoffman. "Helping students feel connected to each other and the College is critical."
Here's the lineup of what's to come so new students get the most out of their education — in and out of the classroom.
Tuesday, Jan. 8
8–9 a.m.: New student orientation check in.
9:30 a.m.: Art Center President Lorne M. Buchman, Dean of Students Jeffrey Hoffman and Admissions Vice President Kit Baron welcome new students.
9:45 a.m.–noon: Campus tours, followed by a lunch with peer mentors (12–1:30 p.m.).
1:30–3 p.m. or 3:30–5 p.m.: Undergraduate students have the option of taking digital waiver tests.
2–5:30 p.m.: Graduate student orientation and course selections.
Wednesday, Jan. 9
8:45 a.m.–12:30 p.m.: International student orientation.
10:15–11:45 a.m.: Financial literacy seminar for domestic students receiving state and federal aid.
12:45–4:30 p.m.: A round of sessions for all students to learn about campus sustainability, health insurance, library recourses, campus security, alumni relations and more.
Thursday, Jan. 10
8:30–9 a.m.: Information on campus technology and equipment insurance, followed by tips on managing class schedules and academic progress.
9–9:45 a.m.: A lesson on the infamous Art Center critique.
9:45 a.m.–3:30 p.m.: Students tour the library, take care of busy work (ID cards, parking information, course logins) and partake in special peer mentor activity.
Friday, Jan. 11
8 a.m.–noon: Parents, spouses, partners and other family members are invited to an informal breakfast followed by campus tours and orientation.
11:30 a.m.–2:30 p.m.: Students lunch with their department chairs, followed by a departmental orientation.
Reminder: Classes officially begin Saturday, Jan. 12. We wish everyone a happy start to the term!