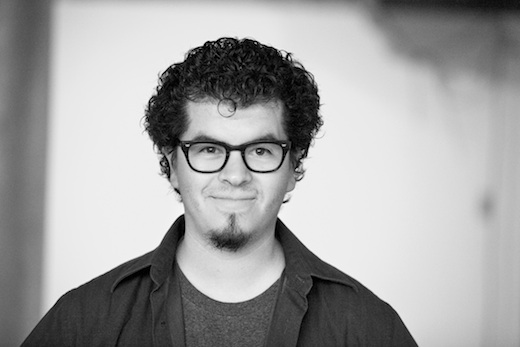 "Art Center's legacy rests in its community," said Graphic Design graduate Adam Lopez, recipient of Art Center's Student Leadership Award for the Fall 2012 term. "We learn and grow together. And when the time comes for us to move on, our ties to each other grow more important."
Each term, Art Center presents the Student Leadership Award to a deserving student from the College. The award is a distinguished honor granted to a graduating student who exemplifies leadership qualities and accomplishments that stand out above their peers.
For Lopez, leadership boiled down to helping his peers and working together towards a higher goal. As a member of EcoCouncil, he grew the College's community by helping bring the Art Center Food Garden to fruition. As founder of the Food Group, he organized fundraisers and cultivated friendships among strangers over shared meals.
As a student communications manager for the Center for the Student Experience, he helped communicate the needs of the growing freshman population to the College. And as a peer mentor, he volunteered between terms to welcome new students, forming long-lasting relationships that transcended orientation week.
Students who receive the Student Leadership Award represent the character, the integrity and the skills that Art Center desires for all students to develop during their time at the College. Recipients must have represented student interests by providing outstanding leadership through broad involvement in Art Center campus life.
Check out this great video that Lopez' fellow Graphic Design student Jessica Nordquist made during the Summer 2012 term in instructor Petrula Vrontikis' Advanced Graphics Studio course:
Related:
EcoCouncil Throws a Spring Food Garden Party
Graphic Design Students Ready for Their Closeups
Meet Jenn Kuca, Winner of the Summer 2012 Student Leadership Award