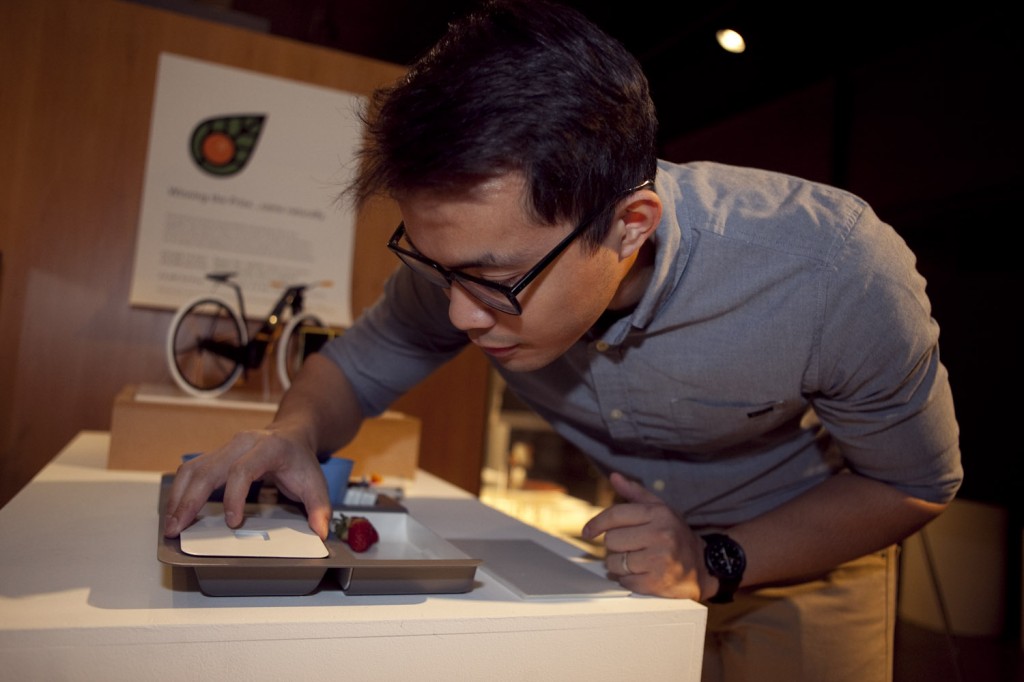 Pop quiz:
What do the following design concepts have in common: a streamlined re-design of in-flight meal preparation and service that reduces air-travel waste; a bicycle for tourists that collects environmental data as cyclists explore the city; and a human-powered washing machine and spin dryer for families living on $4 to $10 per day?
a. They were all designed by Art Center students.
b. They reflect the growing awareness of sustainability within art and design.
c. They are the winning concepts of the 2012 Denhart Family Sustainability Scholarship Prize.
d. All of the above
Too easy? The answer (d) shouldn't surprise anyone who is familiar with the cutting-edge role Art Center students are playing in environmentally and socially responsible art and design. This year's Denhart Prize winners, chosen from a highly competitive pool of undergraduates from Fine Art, Film, Photography, Illustration, and Industrial and Environmental Design, represent some of the year's top design ideas in sustainability at Art Center.
Created through a generous gift from Gun Denhart and son Christian PROD 10, the annual Prize aims to bring awareness of how art and design are uniquely capable of advancing sustainability and to bring attention to students who are making environmental and social criteria a priority of their work.
The first-place award of $15,000 went to seventh-term Rayyan Toh PROD for his elegant, "zero-waste" EATUP in-flight meal service design. Toh says the idea for the project first came to him while flying from Singapore to Los Angeles. "During the long flight I noticed I was generating a lot of trash," he says. "When I factored that by the number of people on the plane and the number of planes in the air, I realized there might be an opportunity to reduce the amount of waste significantly."
On the ground and back at Art Center, his research for the EATUP system included conversations with a sustainability manager of a major airline caterer and a friend who worked cabin crew at Cathay Pacific. The result was a solution that reduced aluminum and polystyrene use, made waste easier to sort and dispose of, and improved passengers' in-flight dining experience.
Jurors awarded the second-place prize of $10,000 to Katrina Hercules GRAPH, Sam Li PROD and Yang Cai TRAN for their Saga mobility and environmental monitoring system, a bicycle-kiosk system inspired by honey bee morphology and behavior. The $5,000 third-place prize went to Alex Cabunoc PROD and Ji A You PROD for their GiraDora washing machine and spin dryer, based on site and user research in the village of Cerro Verde, Peru.
According to Heidrun Mumper-Drumm, Director Sustainability Initiatives and a Denhart Prize juror, "This year's winning projects were notable for the quality of the research and understanding of relevant environmental, social and economic criteria, as well as the ability to apply art and design in creating optimal and comprehensive solutions."
"Designers have the responsibility to push for sustainable design and integrate innovative ideas," adds juror Henrik Fisker, Founder and Executive Chair of Fisker Automotive. "The Denhart Prize helps bring awareness about how to make our planet a beautiful place for future generations."
To learn more about how to create a scholarship at Art Center, contact Maya Fredrickson.