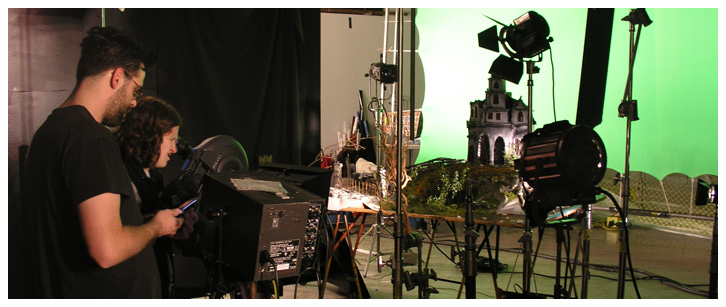 During a break on the set of Man of Steel, the upcoming Superman reboot directed by Zack Snyder FILM 89, Jack Foley, a teen actor whose character in the film bullies a young Clark Kent before the two become friends, started asking questions. "I began talking with Zack about how he became a filmmaker, and the conversation led to film school," Foley says. "I asked him about where he went, and he spoke very highly of Art Center."
Like many others, Foley is an actor who wants to direct. And in Snyder he saw his college future. "I was pretty much set to go to a different film school, but after seeing Zack's methods and the way he controlled his set, it was clear to me that I was working with a true artist. I started looking into Art Center."
The Visual Storyteller, Act One:
As befits a successful screenwriter (Rush Hour), novelist and, most recently, graphic novelist, Ross LaManna, chair of the undergraduate Film Department since 2006, has countless stories to tell. Many center on the program's students, such as Dan Bartolucci FILM 10, who got a job on the graveyard shift at special effects house Lola, right after graduating.
Soon, he was creating complex special effects such as making Chris Evans small and skinny in Captain America, aging the lead actors at the end of Harry Potter and the Deathly Hallows Part 2 and making Bella look emaciated in Twilight Saga: Breaking Dawn Part 1. This fall, Bartolucci returned to campus to teach these techniques to students.
He also likes to tell about the day longtime industry executive John Tarnoff came to visit. At the time, Tarnoff was with DreamWorks Animation, where Art Center grads have frequently found a home. "He was interested in doing more stuff with us," says LaManna. "He said, 'You know what I like about Art Center Film? You guys understand that movies aren't shot anymore, they're designed.'"
Tarnoff had succinctly captured Art Center's philosophy of filmmaking: visual storytelling. "Everything students learn ties in with that," says LaManna. "Even with all the technological changes and new media stuff, the important thing remains being able to tell a good story visually."
Indeed, while today's environment has provided more opportunities to novices, skills are still required to create a quality product, whether in film, TV or short-form works. "A good narrative. Working with actors. Telling a story visually. Those apply across the board," says LaManna.
Based on his own experience as a young screenwriting student, LaManna decided to assemble a faculty comprised solely of industry professionals who teach part-time.
"The instructors who gave me the most accurate entrée into how things work and the skills that will get you a career in the business were all working professionals," he says. Of course, at any given time, one-third of the instructors are off working in the field, so the Department has to be very nimble.
"Fortunately, we are not like a big university where you don't have much flexibility." The secret, LaManna says, is having a "very strong bench."
For example, Directing 1 is taught by Bobby Roth, who started his career as a writer-director of critically-acclaimed indie films and now has more than 70 network one-hour directing credits on shows like Lost and The Mentalist. "We had to move the class to Saturday morning because Bobby is always working,"
Natalija Nogulich, an actor who has had roles in Star Trek: The Next Generation, The West Wing, Red Widow and Suburgatory, and will next appear in the upcoming HBO biopic on Phil Spector starring Al Pacino, teaches Acting Workshop for Directors, in which she educates aspiring directors on how to get great performances from actors.
Students often say it's one of their most challenging classes. "But that's what it's going to be out there in the film biz—challenging!" says Nogulich.
"There is a mistaken presumption that acting is simple, just say the words and hit your mark," says Nogulich, who has taught at Art Center since 2007. "The second erroneous presumption is that directors can get what they want from an actor by doing it for them. These misconceptions are shattered on day one of my class."
Students also benefit from the expertise of Affonso Beato, ASC, renowned cinematographer (The Queen, Nights in Rodanthe, Love in the Time of Cholera), who in 2009 developed for Art Center a stereoscopic 3D cinematography program and lab, the first at any U.S. film school. He also teaches Advanced Cinematography, which includes preparing students for job interviews.
Beato admits that working with students makes him better at his craft. "Sometimes I can't answer a question, so we'll research the answer together," he says.
Drawing on his early background in computer science and mathematics, he and some of his students developed an iPhone and iPad app called SD3D that calculates best shooting distances for 3D films.
Beato heralds Art Center's creative environment. "You're immersed in visual design here," he says, praising the frequent collaborations among film students with those in other design disciplines.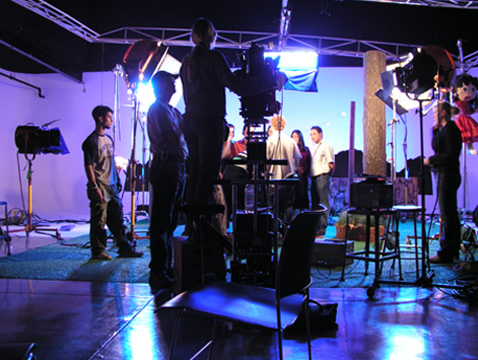 Film education at Art Center has come a long way since Robert Peterson, chair of the graduate Broadcast Cinema Department since 1990, was one of the school's first film students.
In 1973, he and five other Advertising classmates convinced the College's president to start the first filmmaking program specializing in directing television commercials. Within six years, graduates were winning CLIO awards.
The program now emphasizes great storytelling and compassionate teamwork, regardless of genre. "We have no agenda," says Peterson, who is writing a book on the program's unique history. "Our students create movies, television, commercials, documentaries, videos and experimental works—they make their own choices. We welcome their new ideas."
Art Center admissions have always been selective, and classes are still kept very small in both the graduate and undergraduate programs, because of the emphasis on collaboration.
"It's a conservatory program, so students work together in teams and on each other's projects and, by the time they graduate, they've helped to create many films," Peterson says. Moreover, he adds, "We don't want our writer/ directors to think of themselves as lonely auteurs. If they respect other artists and welcome their skills, they'll be collaborating like veteran filmmakers before they graduate."
Erik Anderson was already a producer of feature films when he selected Art Center for his MFA, partly because of its legacy and professionalism. "I stood on the shoulders of guys who were there before," he says, like Tarsem Singh FILM 90 (Mirror Mirror, Immortals, The Cell) and Michael Bay FILM 88 (Transformers, Armageddon).
While in school Anderson has developed a strong commercial reel, but it was during the making of a documentary in Peru, in collaboration with Art Center's Designmatters' Safe Agua Peru project, that he realized the depth of his technical training.

For Hands in the Mist, which presents design solutions created by Art Center students to overcome water poverty issues, Anderson learned documentary shooting "on the fly"—and was shortlisted for a Cannes Young Director Award.
Like Anderson, Ellen Houlihan was working in the industry when she decided to return to school.
For her, the efficiency of the graduate program was a big draw. "Art Center's accelerated two-year MFA degree made the most sense in terms of time, money and independence afforded to student filmmakers," she says.
Houlihan has been prolific at Art Center and is already winning awards, most recently a 2012 Cannes Young Director Award for a public service announcement about gay suicide that was praised by The Huffington Post.
She adds that another reason she picked Broadcast Cinema over other MFA programs was that she wouldn't have to choose a concentration in screenwriting, directing or producing; here, she was able to do all three.
Finally, she cites TV veteran Victoria Hochberg's Directing 1 class as offering training she didn't see anywhere else, explaining, "Victoria provides a real-world simulation to teach us the art of collaboration and the rigors of meeting each day of production."
Art Center Sees Films as Works of Art, Act Three:
As we await the summer 2013 release of Snyder's Man of Steel and the next great works from Michael Sucsy FILM 03 (The Vow, Grey Gardens) and other alumni filmmakers, LaManna and Peterson are convinced their students will continue to set new standards.
"More and more, our filmmakers are now authoring their own works," Peterson says with a smile. "The future is bright for great storytellers who can direct."
"If they're put on a set, they know what they're doing," LaManna continued. And if they aspire to direct their own projects, "we work hard to give them the wherewithal to do that. We give them a strong skill set and a sense of entrepreneurship, both of which are absolutely essential."
Based on Snyder's recommendation, after completing his work on Man of Steel Jack Foley visited Art Center. "When I toured the school, something became extremely clear to me: At Art Center I would become an artist. At any other school, I would become a guy who makes movies," says Foley. "Art Center sees films as works of art. No other schools I looked at had that same view."
Foley enrolled in undergraduate Film in September 2012.