Visual Effects Supervisor and alum Leslie Ekker recently earned a Visual Effects Society award nomination for "Mockingbird Lane," NBC's reboot of the 1960s classic "The Munsters."
The pilot, which earned a nom for Outstanding Visual Effects in a Broadcast Program, starred Jerry O'Connell as family patriarch Herman Munster, Portia de Rossi as his wife Lily, and Eddie Izzard as Grandpa. We caught up with Ekker to learn how he helped design modern-day Munsters.
Describe the visual effects your team is being recognized for on "Mockingbird Lane."
There were 75 visual effects shots for a 40-minute pilot. For example, specially designed particle animations were created to show the appearance and special powers of matriarch Lily Munster (Portia De Rossi), who first arrives in a wooden crate. A languid vapor begins to flow from the chinks in the crate and then flow together to form a nude Lily. We wanted to create something that would be uniquely "Munsters," so I proposed a system that wasn't the usual "reverse-action" smoke. We also embedded hidden forms in the animation that informed us of the character, a skull and a toothy flower. After she materializes, she summons hundreds of spiders to weave her dress, right on her naked skin.
This was done with several systems and live-action cuts and inserts combined — Quite a challenge to create a layered gown in just a few seconds from spider silk.
You've been working in Hollywood for more than 30 years, how has the visual effects field changed?
There are so many changes — many for the worse — that are evolving in the industry. The off shoring of visual effects production has impacted the community very deeply, and eroded the quality and the creativity of the work recently. It's hard to inspire from half a world away.
What skills from Art Center have stayed with you throughout your career?
Art Center gave me a tough but caring professionalism, and a team-oriented way of working that has served me very well. The design principles I was taught there have truly set me apart from many in the arena. I learned to see, to think and to communicate. These are key to any creative team process.
Your son, Noel Ekker, is working on a degree in Entertainment Design at Art Center. Is he following in your footsteps?
Noel is on a one-year hiatus, continuing to hone his considerable skills, to return for the home stretch this fall. Noel has now completed his work as Key Concept Designer for a small Disney feature film production, now in postproduction. We are so proud of him!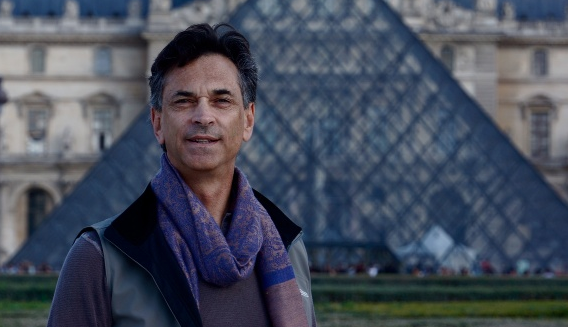 Ekker graduated with a degree in Product Design from Art Center. Before moving into visual effects, he worked as a model maker for more than 20 years on films like "Bladerunner" "Ghostbusters," "True Lies," "Hook" and "Apollo 13," for which he earned a BAFTA and an Oscar nomination. He also supervised models for "The Fifth Element," "Titanic" and "Dante's Peak," the largest model job in history.