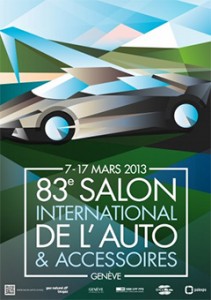 Automobile enthusiasts from around the globe are gathering in Switzerland for the 83rd International Geneva Motor Show March 7–17, 2013 and Art Center faculty, alumni and staff are circulating among them.
An Art Center alumni event
is set for Wednesday, March 6, 17:00-20:00 
at the C Bar and Lounge, Starling Geneva Airport Hotel.
Alumni and friends are invited to meet up at an informal reception in conjunction with the show. Geoff Wardle, executive director of Graduate Transportation Design, and Cathy Karry, director of the College's Career and Professional Development office, will be among the faculty and staff in town to connect with alumni who live in, or near Geneva as well as those visiting for the auto show. For more info, please contact Alumni Relations at alumni@artcenter.edu.
Wardle will be meeting with industry and media representatives to discuss Art Center's new Grad Trans program that offers two tracks for students to pursue:
The Vehicles Track is for those who are intent on entering or returning to the vehicle manufacturing industry who have strong strategic thinking skills and the ability to focus on the bigger issues facing the field relating to its customers and its future business models.
The Systems Track is geared to individuals who have a more varied background plus are interested in a more holistic, systems-thinking approach to innovative transportation solutions from personal mobility in the urban environment through to more sustainable freight transportation, for example.
Wardle will also discuss the development of automated road vehicles, future business models for the industry and generally what the outlook is for the future of the automobile—which, in his opinion, is positive!
– Teri Bond
For more information on the graduate program, visit
http://www.artcenter.edu/accd/admissions/graduate.jsp
http://www.artcenter.edu/accd/programs/graduate/transportation_design/course_of_study.jsp